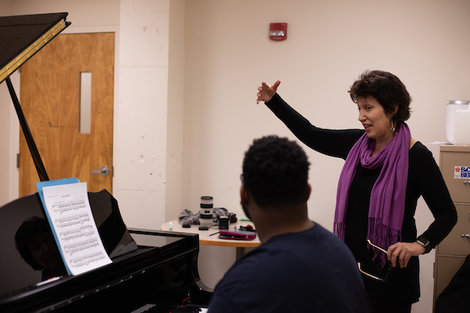 Story Series
News Feature
Dick Kattenburg was in his 20s when he died at Auschwitz concentration camp in 1944. Now, Bridgewater State University music Professor Deborah Nemko (pictured above giving a piano lesson to a BSU student) is keeping alive his memory and music.
Kattenburg and other Jewish composers wrote music on scraps of paper while in concentration camps. Nemko researches and performs on piano the works of Kattenburg and fellow classical composers who died in the Holocaust or who were prevented from publishing their music during the World War II era.
"I'm Jewish and I have a very strong connection to wanting to make sure these composers and their works and the people who lived through this terrible period live on," said Nemko.
The veteran music professor will perform Kattenburg's music next month at the Anne Frank Awards Ceremony at the Library of Congress in Washington. The annual event, held March 27, recognizes people who work in the spirit of inclusion and diversity embodied by Frank, the famous Jewish diarist and Holocaust victim. 
From March 2-6, Nemko will be artist-in-residence at York University in Toronto. She will perform music from World War II that is mostly unpublished and largely unknown and will also deliver a lecture on the musical contributions of refugees past and present. Nemko will also give a master class for piano students.
This summer, she will present a lecture-recital at the International College Music Society conference in Belgium.
In 2015, Nemko taught, researched and performed in the Netherlands as a Fulbright scholar. She worked with the Leo Smit Foundation to study Dutch suppressed and forgotten composers. In many cases, relatives find these pieces in attics. Sometimes, scholars must sift through multiple versions to determine which one was likely the composers' finished piece.
While Nemko's research has taken her abroad, she hasn't forgotten about sharing her work with Bridgewater students. She incorporates the composers into her 20th century music history course and has performed some works on campus.
"Playing the music is a way of getting into a topic that may be difficult to talk about and understand," she said. "People relate to music emotionally."
Many composers' scores remain unpublished. Nemko hopes to make their works more well-known through preparing the music for publication and recording and performing it.
"It gives me chills to know I have an opportunity to be close to this and the music and handwriting which represents these people whose lives were cut short," she said. "I have the opportunity to tell their story. To me, that's really powerful." (Story by Brian Benson, photo by Drew Cambra, '19, University News & Video)
Do you have a BSU story you'd like to share? Email stories@bridgew.edu.