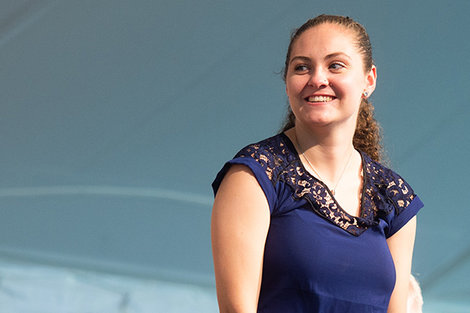 I really got the sense people cared about each other and wanted to see other people succeed. It felt right here. I'm very, very happy I came here.
Story Series
News Feature
[Editor's Note: This is the second story in our Back to School series.]
"Shy" is not the first word that comes to mind upon meeting
Anna Grady
, '20. But, that's how she described herself – at least until she flourished as a student at Bridgewater State University.
Growing up in Westfield, Anna did not become heavily involved in activities aside of gymnastics, an early love. At Bridgewater, she sought to immerse herself in the welcoming environment she encountered on her first visit to campus.
"I really got the sense people cared about each other and wanted to see other people succeed. It felt right here," said Anna, who is majoring in communication studies with a concentration in strategic communications, and also minoring in psychology. "I'm very, very happy I came here."
Anna quickly found a home in student government, representing the resident community her freshman year and serving as treasurer the next. During the last academic year, she brought students' voices to BSU's Board of Trustees as its student representative.
"That's been the best experience I've ever had," she said of serving on the board. "It introduced me to the broad perspectives of how to look at a campus community. I really, really appreciated that I got to bring students' perspectives to the board."
Now, Anna is tackling a new leadership role representing BSU and its sister state universities as a non-voting student adviser to the state Board of Higher Education for the 2019-2020 school year. She joins a student adviser from the University of Massachusetts system and a voting student board member from the community colleges. The voting member rotates each year among the branches of public higher education.
It's clear Anna embraces her role as a voice for BSU's diverse population of students, said Dr. Joe Oravecz, vice president for student affairs and enrollment management.
"I have 100 percent confidence in how Anna will be able to represent not only BSU but the state university system," Oravecz said. "She's very engaging and listens extremely well."
Anna looks forward to learning about life at the other state universities, advocating for affordable textbooks, and participating in discussions about recruiting and retaining students.
She will remain involved at Bridgewater, no doubt making connections with members of a new cohort of Bears beginning their BSU journey. Already, she has advice to offer.
"You really have to put yourself out there. Even if it's not necessarily you, you just have to do it. I never would have imagined I'd have done these things," Anna said. "I am so grateful for all of the opportunities I've gotten here."
Do you have a BSU story you'd like to share? Email stories@bridgew.edu.