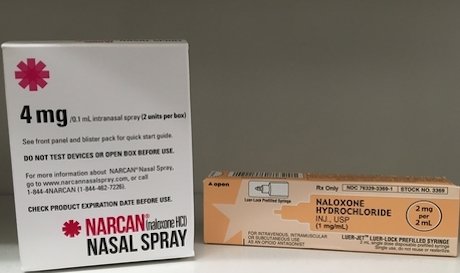 Story Series
News Feature
"Located in the geographic heart of Southeastern Massachusetts," has long been a claim of strength and commitment – a stake in the Massachusetts higher educational landscape – for Bridgewater State University.
Now the university is responding to a crisis in its own backyard – Plymouth County, an epicenter of opioid abuse in the commonwealth – where first responders, health officials and treatment centers scramble daily to combat drug overdoses and deaths spiked by the onset of a new and powerful strain of deadly opioids.
Aiding in the fight, Chief David H. Tillinghast has directed the Bridgewater State University Police Department to launch an aggressive program that will make Narcan, the overdose-reversing drug, publicly available in the more than 40 defibrillator boxes currently located in academic and administrative buildings across campus. Narcan will also be available in campus parking lots that have parking attendant booths.
PAARI - the Police Assisted Addiction & Recovery Initative - has donated 50 Narcan kits that contain two doses each to Bridgewater State University thanks to Adapt Pharma, Inc. of Radnor, PA, saving the university more than $6,000 to start the program. Based in Gloucester, PAARI works with nearly 300 police departments across the nation to support their efforts to combat the opioid crisis.
Bridgewater is the first university in the nation to aggressively respond to an on-campus overdose on two fronts: by making Narcan available in all of its 11 residence halls and by training residence directors and assistants, in addition to institutional and student security officers that work in the halls, on how to handle overdoses that may occur there. 
The move is being lauded by law enforcement officials across Plymouth County, substance abuse experts and by one of the state's leaders in combatting the opioid epidemic – Dr. Daniel Muse, who specializes in emergency medicine at Brockton Hospital Signature Medical Group.
Together, the university will offer the campus community Narcan, defibrillator and related CPR training on Tuesday, Sept. 12, starting at 12 p.m. Students, faculty, staff and the community at-large are encouraged to attend a free, comprehensive overview and hands-on training to combat the opioid crisis.
It will be another in a series of opioid training session conducted on the university's campus within the past three months. At the end of June, Bridgewater's athletic training faculty and the College of Education & Allied Studies hosted a symposium for emergency workers and athletic trainers. Residence hall personnel received their training in August.
Staged in the ballroom of the Rondileau Campus Center, the event will include perspectives from Plymouth County District Attorney Timothy J. Cruz, Plymouth County Sheriff Joseph D. McDonald, Police Chief Scott Allen of the East Bridgewater Police Department representing EB Hope, Hillary Dubois Farquharson and Amanda Sandoval of High Point Treatment Center, BSU President Frederick W. Clark Jr., Chief Tillinghast, and training led by Dr. Muse.
"I'm proud of Bridgewater State University for doing this," said Dr. Muse, who has been training first-responders since November 2013 at the request of the Stoughton Police Department after it responded to 30 overdoses during Labor Day weekend that year. Since then, Dr. Muse has provided dozens of train-the-trainer sessions to police departments, which have consistently led the call for education within their communities, and first-responders throughout Southeastern Massachusetts and the commonwealth.
"This is new to universities," Dr. Muse said, acknowledging that Narcan training programs can often be a tough sell within the ranks of academia. "There's a drug you can give that reverses overdoses and gets victims breathing," he said. "To President Fred Clark's credit, he's been on board since day one."
Statistics show a decline in the average age of those who overdose. Previously, the age range of 30-39 represented the largest number of victims. The needle has shifted to younger people, ages 20-29, which includes college-age students,
With some marijuana now being laced with deadly fentanyl to "spike it up," emergency rooms are seeing an increase in the number of individuals who've overdosed, unaware that they were ingesting the drug. In addition, "in lacing marijuana with fentanyl, they are creating a product that people are going to want," Dr. Muse said. 
"The 'nobody else is doing it' argument doesn't make sense any longer," said BSU Deputy Chief of Police Glen Anderson of the Narcan initiatives.
Dr. Muse agrees.
"There are so many avenues for potential overdose now, so knowing how to use Narcan is a benefit. It's going to be good for the school and put BSU at the forefront of higher education institutions in the state. Once this takes off, others will reach out. We need a school coalition and we need to be connected."
Click here  to register for the Narcan training session at BSU, visit or contact Det. Sgt. Robert McEvoy of the BSUPD at rmcevoy@bridgew.edu or 508.531.2103. (Story by Eva T. Gaffney, G '01, for University News & Media)