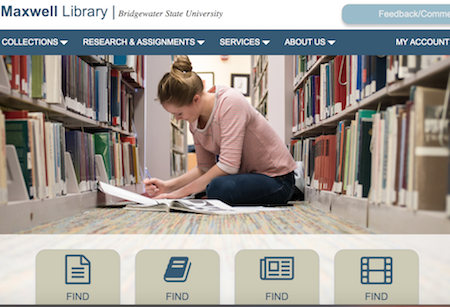 Story Series
News Feature
The Maxwell Library has just introduced a revamped website, which boasts several improvements, including increased accessibility via smart phones and tablets.
Library.bridgew.edu features an interface that is more user friendly and more intuitive, said Ellen Dubinsky, associate librarian and head of digital services, who worked on the project over the past six months with her colleagues at the library, and the Information Technology and Marketing and Communications divisions. Members of the Student Integrated Marketing group have been helping promote the new site.
Students also provided feedback as the project progressed.
The goal was to have the bulk of the revamping project done by the start of the semester.
"New semester, new look, new website," Ms. Dubinsky said. "We're seeking to provide a totally responsive website so we can meet our users' need wherever they are."
One area of focus for the new site was making sure it was compatible with smart phones and tablets, as well as laptop and desk top computers.
Improvements have been made in searching and retrieving functions, and a new feature will allow students to book study rooms in advance.
More new functions will be rolled out in the coming months, including a new library catalog interface after the new year. (Story by John Winters, G '11, University News & Media)