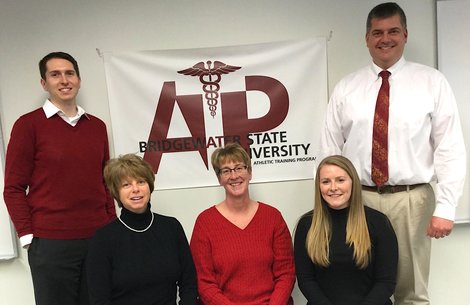 Story Series
News Feature
The athletic training program has been recognized by a national organization for its educational work concerning the prevention of sudden death.
The Korey Stringer Institute selected the Bridgewater State University program as the first recipient of an award it plans to present annually to an athletic training educational program that "excels in community outreach" to prevent sudden death in sport and other physical activity.
As part of the award, the Connecticut-based institute agreed to come to BSU on July 31 for a presentation on reducing the risk of heat illness in athletes. The symposium will also feature talks by BSU faculty on such topics as airway management, removing equipment from injured athletes, and the use of the overdose-reversal drug, Narcan.  
Dr. Kimberly Wise, clinical education coordinator, said she is thrilled the institute chose to honor the university's athletic training program.
"I'm very proud of our accomplishments, how we exert ourselves in the community, and the preparation we give our students," said Dr. Wise, an assistant professor of Movement Arts, Health, and Leisure Studies. She views the award as a reflection of those efforts.
"We are medically trained individuals who are preparing our students to go out and be lifesavers," she said.
Named after Korey Stringer, an NFL player who died from heat stroke in 2001, the institute is a research, education, and advocacy organization that works to prevent sudden death in athletes, military service members and laborers. 
The BSU athletic training program earned its award through such initiatives as an opioid abuse and Narcan training symposium it held last year that also included a session in airway management and use of automatic emergency defibrillators. 
Additionally, an undergraduate student and staff athletic trainers secured a grant to install 12 defibrillators around campus, and the ATP adopted a requirement that its students become certified as emergency management technicians - a move spurred by the experience of Dr. Wise and five BSU student volunteers working triage near the finish line of the Boston Marathon during the 2013 bombings.
Apart from earning the university a free presentation from the institute, Dr. Wise said she is hopeful the award "raises awareness of our program within BSU and beyond about what we do and how we support our faculty, our students, and the community."
"And it sheds light on our role as athletic trainers," she said, "who we are within the medical profession." (Story by John Laidler for University News)