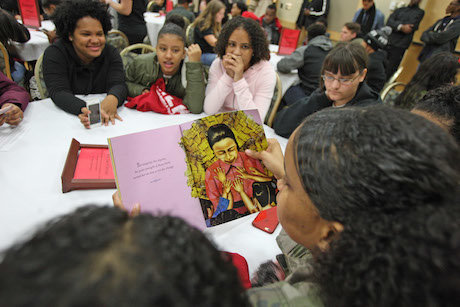 Story Series
News Feature
The question kicked off Bridgewater State University's celebration of Dr. Martin Luther King Jr. — and then inspired a daylong commitment to service: "Life's most persistent and urgent question is, 'What are you doing for others?'"
Those words from Dr. King served as the spark that ignited the annual MLK Day of Service on campus on Monday. 
See photos from BSU's MLK breakfast and Day of Service here. 
About 250 people — many of them children from area communities — joined BSU President Frederick W. Clark Jr. at a community breakfast before spending the rest of the day living up to the challenge laid down by the late Civil Rights leader. In addition to a discussion about the legacy of Dr. King's service to others, volunteers made blessing bags for individuals experiencing homelessness, wrote letters to soldiers, designed welcome home signs for families transitioning out of homelessness, and created literacy materials for local preschool children.
"We talked about Dr. King and told them about his story, but we focused on how he sought to serve others," said President Clark. "We think it's an important message for young people today and we were honored to provide service to others in Dr. King's name."
Richardson Pierre-Louis, assistant director for BSU's Martin Richard Institute for Social Justice, served as the keynote speaker and provided context for Dr. King's wisdom and how it could be applied today.
BSU faculty, staff, students and community members participated in the day-long philanthropic event along with volunteers from the Bridge Partnership, Footbridge program, AmeriCorps VISTA/Massachusetts Campus Compact, Alpha Kappa Alpha sorority, and Baptist Church of all Nations' S.T.R.O.N.G. Youth Ministry. (Story by Charlie Peters, University News and Media)