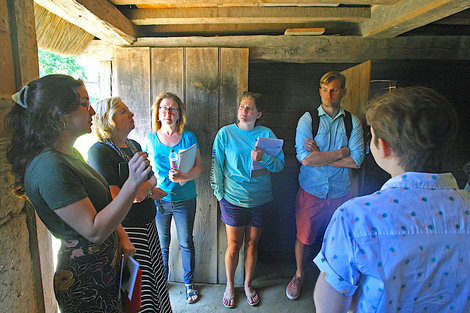 Story Series
News Feature
Lauren Enoksen recently stepped about 400 years back in time, and in doing so she picked up ideas for her modern-day Dartmouth High School social studies classes.
Ms. Enoksen spent a week at Plimoth Plantation, taking a summer course offered through a partnership between Bridgewater State University and the living-history museum that features a recreated 17th Century colonial village and Wampanoag homesite.
"I liked the idea that it was hands-on and that it was at Plimoth Plantation," said Ms. Enoksen, who first visited the museum when she was an elementary school student.
The graduate-level course, which is geared to school educators and staff and taught by Plimoth Plantation's Vicki Oman, is called Early American Communities in Conflict and Collaboration: Teaching 17th Century Plimoth. The class also features online elements. 
The on-site portion focused on written, oral and other primary sources. Students visited downtown Plymouth during a lesson on maps, and explored the architecture on display at the museum. They also looked at reproduction objects used in exhibits and learned about historians' efforts to uncover how processes such as making clothes were accomplished centuries ago.
"Part of what we do at Plimoth Plantation is to use archaeological evidence to try to recreate processes from the 17th century," said Ms. Oman, the director of museum programs and school services at Plimoth and a senior visiting instructor at BSU.
But archaeology can be a difficult process. Some digs take archaeologists to remote locations or, in the case of Plymouth Colony, beneath a modern-day, fully developed town where many remnants of colonial life have been destroyed. 
Dr. Kathryn Ness, Plimoth's curator of collections, compared it to working on a jigsaw puzzle when you only have a couple pieces. And, archaeology is about much more than digging, since finds must be dated and interpreted in an effort unlock the mysteries of the past, Dr. Ness told the class.
The course is part of an evolving relationship between BSU and Plimoth that began with BSU students serving as interns at the museum.
"Our relationship with Bridgewater has developed in a really beautiful way," said Ms. Oman. "Our mutual goal is to be able to educate with this story in a way that is very relevant."
Class participant Alyssa Walsh, G'19, a middle school social studies teacher at Rising Tide Charter Public School in Plymouth, said she was excited to discover history in her own backyard. Ms. Walsh and Ms. Enoksen were eager to learn how to bring hands-on activities to their classrooms.
Often, the only primary sources teachers rely on are written texts, Ms. Enoksen said. 
Ms. Oman hopes participants came away with ideas they can use when teaching, as well as a greater understanding of this important era of history. Course participants also shared how they are teaching in their schools, helping museum staff ensure its mission remains relevant, she said.
"It's an opportunity for us as well," she said. "It's really a joy to share who and what we are, and to share it with other people who also love to bring others into the story, even better."