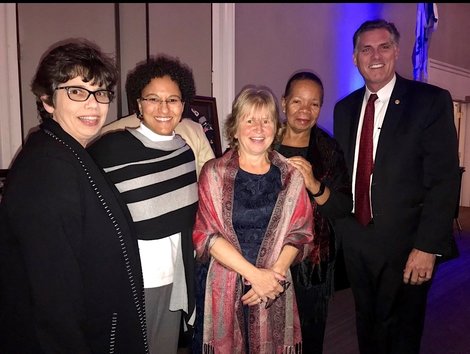 Story Series
News Feature
Mary Waldron isn't a Brockton native, but she sure has a passion for the city.
Waldron, who grew up in Chicopee and leads Bridgewater State University's Institute for Policy Analysis and Regional Engagement, dedicates much of her free time to giving back to her adopted hometown.
The Boys & Girls Club of Brockton recently honored her commitment to the city and its youth at its annual gala. Waldron is one of three recipients of this year's Thomas P. Kennedy Service Award, named after the late state senator who represented Brockton.
"She is someone who is so passionate about this city," said Monica Lombardo, '11, the club's director of development and communications. "Mary has a lot of pride in her adopted hometown."
Waldron started the Just Checking In Fund in memory of her late husband, John, who was himself committed to the city and renown for always checking in on friends and family.
The fund supports a variety of Brockton-area programs, including the Boys & Girls Club, youth sports, and an initiative to place flags at veterans' graves. It awards scholarships to Brockton High School graduates and supports Brockton students attending BSU.
"To receive the award is humbling and also emotional in many ways," said Waldron, whose husband worked for Kennedy.
She is also a Rotarian and has worked for Brockton 21st Century Corporation, which is an economic development agency, as well as the city's mayor's office.
Waldron praised BSU President Frederick W. Clark Jr., the cabinet, and the Board of Trustees for their support of her efforts to improve lives in the City of Champions. Her work is one of many examples of Bridgewater State's commitment to social justice.
"Living in Brockton, you just see the need around you and you can't sit back and be a bystander," she said. "The need in Brockton is so, so large."
Boys & Girls Club officials think she is a perfect fit for the award.
"She's truly beloved by people far and wide in this city," Lombardo said. "If there's anybody who epitomizes what we're trying to honor, Mary really is at the top of that list." (Story by Brian Benson, University News)