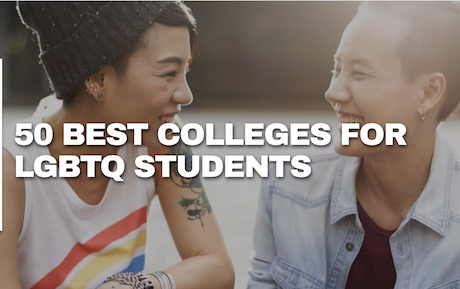 Story Series
News Feature
College Choice has named Bridgewater State University to its list of the 50 Best Colleges for LGBTQ Students.
The university ranked 36th, besting the University of Massachusetts-Amherst, Oberlin College and many other large state universities from across the United States. Topping the list were Princeton University, Massachusetts Institute of Technology and the University of Wisconsin-Eau Claire.
Lee Forest, director of BSU's GLBTA Pride Center, said the recognition belongs to the entire campus community: "I'm very proud that BSU made this list. LGBTQ equity and inclusion are clear priorities of President Clark and his administration, and we've achieved all we have because so many people here are dedicated to LGBTQ student success. This recognition belongs to all of us at BSU."
The criteria used by College Choice included whether a school's non-discrimination policy includes gender expression and sexual orientation.
"If they don't explicitly promise to protect you, move on," the editors wrote.
Other factors used in the ranking were campus safety, hate-prevention programming, a faculty board that is queer and trans-inclusive, a curriculum that is representative of LGBTQ voices and histories, and a vibrant resource center that facilitates a diversity of events, education, outreach and programming.
More specifically, the editors at College Choice ranked BSU highly because: "Foremost, its strengths lay in structural, institutional commitments to non-discrimination and the promotion of visibility. This is seen in Bridgewater's policy statement as well as in their housing provisions, exhaustive counseling and health plans, and their high retention rates. Bridgewater's GLBTA Pride Center works closely with administration to monitor, evaluate, and implement these policies and programs.
Additionally, as a Bridgewater LGBTQ student you will have access to scholarships, study abroad opportunities, queer graduations, LGBTQ specific admissions fairs, and a university-wide curriculum that includes queer and trans voices." (Story by John Winters, G '11, University News & Media)