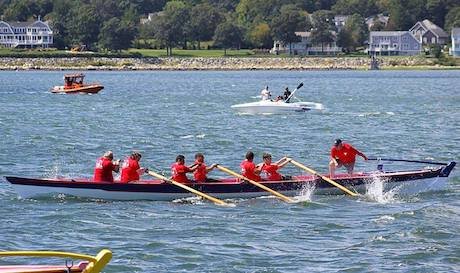 Story Series
News Feature
Dr. James Hayes-Bohanan has a keen interest in the relationship between people and their natural environment, with a particular focus on Latin America and coffee.
Recently the professor of geography was able to combine his academic pursuits and his love of rowing when he participated in New Bedford's ninth International Azorean Whaleboat Regatta, three days of rowing and sailing races featuring teams from the United States and the Azores.
Dr. Hayes-Bohanan was part of a nine-member American team that competed in the rowing portion of the regatta, and among about 20 Americans – all from the New Bedford area – participating in the three-day event.
"I like having international experiences and I'm always glad to be part of one close to home," said Dr. Hayes-Bohanan, who was able to converse with visiting Azoreans in Portuguese, a language he learned studying in Brazil. "On the race day, it was exciting to see how energized everyone was out on the water." 
Dr. Hayes-Bohanan's squad finished second out of three teams.
Organized by the Azorean Maritime Heritage Society, the regatta is part a week-long series of cultural events celebrating the shared whaling history between the United States and the Azores. The regatta, which features replica wooden whaleboats, is held in alternating years in New Bedford and Azores.
Dr. Hayes-Bohanan has been rowing regularly for the past five years with a club that rows replica whaleboats in New Bedford Harbor. He learned about the regatta from another club member.
BSU has ties with New Bedford that his participation in the regatta could help bolster, Dr. Hayes-Bohanan noted, citing a new partnership agreement between the university and the New Bedford Whaling Museum, and his own collaboration with the Buzzards Bay Coalition. Next year, he also plans a summer course about the city he's calling New Bedford Fortnight.
"The regatta draws attention to how rich the heritage of New Bedford is," said Dr. Hayes-Bohanan, who hopes his course will expose students to that history and all the city has to offer today. (Story by John Laidler for University News & Media)