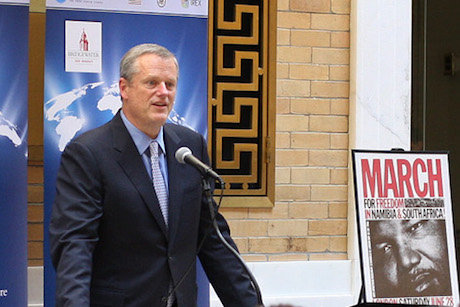 Story Series
News Feature
Surrounded by Apartheid-era posters and Africa's next generation of leaders inside the Massachusetts Statehouse's Great Hall of Flags, Gov. Charlie Baker's voice seemed to falter at times during an emotional Nelson Mandela International Day address to Bridgewater State University's Mandela Washington Fellows.
"I truthfully have trouble coming up with a better role model and a better person whose life and legacy we should emulate than Nelson Mandela's," said the first-term governor, who has a poster of the former South African president in his office. "I think it's terrific that today we celebrate not just who he was, but what he stands for and what he represents."
And that, of course, includes the transformational power of education.
Tuesday, all 25 of Bridgewater's fellows attended the statehouse's fourth annual Mandela Day celebration, on what would have been the late South African leader's 99th birthday. The event included speeches from other elected officials, dignitaries and two of the fellows themselves. Each addressed the standing-room only crowd with a banner behind them full of Mandela's wisdom, including perhaps his most-oft repeated quote: "Education is the most powerful weapon which you can use to change the world."
The Mandela Washington Fellowship aims to do just that. The program at the center of the Young African Leaders Initiative, which provides promising young minds the opportunity to spend six weeks at an American university for an immersive leadership summit. Only 1,000 were chosen from a pool of 64,000 applicants; Bridgewater was one of just 38 institutions from across the United States selected to host one of the Sub-Saharan African contingents.
State Rep. Byron Rushing served as the emcee for the Mandela Day event, reminding the crowd that the anti-Apartheid movement began decades before President Mandela's eventual release from prison in 1990.
"When this work began in late 1960s and early 1970s, virtually no one believed it would be successful. I say that over and over again when I speak to young people to let them know how hard you must work for justice," he said. "No matter how crazy the idea is, or how difficult the position you are advocating seems to other people, you can never give up because you never know when all of the pieces will come together."
The contingent from BSU was joined by Bridgewater's Interim Assistant Provost for Global Engagement Dr. Wendy Haynes, Professor Emeritus Dr. Mikael Kryzanek, Global Studies Academic Director Dr. Wing Kai-To and Assistant Director of International Relations Harold Tavares.
"I am a living testament of your African dream; I vow to continue your great work and never let you down," Loyiso Makapela, one of two South Africans from BSU's Mandela Washington Fellowship group, said. She spoke this pledge directly to Mr. Mandela's image on a poster next to the podium before turning to the crowd for her official remarks. "I thank Bridgewater State and its incredible leadership for doing this work that you have done. We will never forget it. And to the fellows, our work is not done. The best is yet to come. Let us do it together."
Tshepo Alfred Mahlare next joined Ms. Makapela at the microphone and praised Mr. Mandela as a principled teacher who calmed an entire people's outrage. 
"We had been humiliated, oppressed, hated and undignified; we were angry and at a crossroads. Nelson Mandela spoke to us and taught us to forgive, he taught us to laugh and he taught us to speak," said Mr. Mahlare. "He believed in the unity and the concept that people — no matter how diverse — should have the priority of coexistence."
South African Consul General Thulisile Mathula Nkosi was also on hand, and mentioned that he'd recently left an Africa youth forum at the United Nations concerned by the next generation's perception of its own continent.
"Everywhere you go in Africa, you hear about corruption — but you are the ones who have the energy to push against that system and that culture," Mr. Nkosi told the fellows. "You come from a very rich continent. We have so many things, but the only thing we do not have is the young people who will go out of Africa, get the knowledge and experience, and then go back to make it happen."
Other speakers included Abigail Horgan of the U.S. State Department, South Africa Partners Executive Director JudyAnn Bigby, State Senators Jason Lewis and Marc Pacheco; the latter's constituency includes the town of Bridgewater.
Sen. Lewis mentioned that one of the great regrets of his life was not attending Mr. Mandela's speech at the hatch shell on the Esplanade in Boston just month after he was released from prison.
That visit to Boston was especially meaningful for the late South African president, as two of his daughters and six of his grandchildren lived in the city during his incarceration.
"Together we have to turned the wheel of history in favor of liberty," Mr. Mandela told an estimated crowd of 250,000 gathered by the Charles River on June 23, 1990. "When one day our history is rewritten, the pioneering role of Massachusetts will shine out like a diamond." (Story by Charlie Peters, University News & Media)