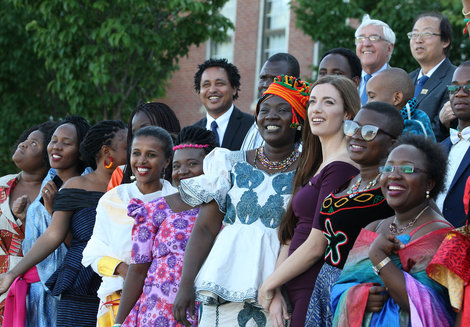 Story Series
News Feature
The campus community officially welcomed to Bridgewater the 2018 cohort of Mandela Washington Fellows for a six-week academic and leadership institute.
"I look out on this group of people and I just see this whole community, this village," said Dr. Wendy Haynes, interim assistant provost and senior international officer, who serves as director of BSU's Mandela Washington Fellowship Institute.
The 25 fellows were spread around tables in the Dunn Conference Room, allowing them to mix and mingle with faculty members, trustees, administrators and local residents before and during Tuesday's dinner.
In his remarks, President Frederick W. Clark Jr. reminded attendees that July 18 marks the centennial of Nelson Mandela's birth. The United Nations will mark the event, and around the world people are being asked to do something for their community.
"It is that very challenge of making the world a better place that caused Bridgewater State University to rise up and compete to host the Mandela Fellows," the president said.
This is the third consecutive year that BSU was selected by the U.S. Department of State as a partner with the Mandela Washington Fellowship, the flagship program of the Young African Leaders Initiative. Bridgewater is the only institution in Massachusetts hosting the fellows this summer. The only other host school in New England is Dartmouth College.
This year, the number of institutions selected to host the program was reduced to 27 from 40.
President Clark said the MFW Institute at Bridgewater is both rigorous and comprehensive, which is why the university was selected once again as a host institution. 
"We know this program will make a difference in your lives and we hope in your communities," he told the fellows. "We hope you will find your own true path and purpose."
Attendees also heard from 2016 MWF alumnus Molalign Belay of Ethiopia, who recalled his time at BSU, saying the Mandela fellowship presented him with "a lifetime of opportunity."
He went on to share memories of his time on campus two summers ago, and said his prime takeaway from the experience was the important role education can play in one's life.
"Education is the most powerful weapon to change the world and for achieving social justice," Mr. Belay said.
The dinner was sponsored by area resident Albert Senesie, founder, president and CEO of Victory Human Services. He shared part of his life story at the conclusion of Tuesday night's dinner.
Both President Clark and Dr. Haynes told the fellows that the Mandela program's benefits are reciprocal.
"You will learn from us, but I know we will learn much from you," President Clark said.
Before leaving the podium, the president used the power granted to him to make sure the 2018 cohort of Mandela fellows felt at home in Bridgewater.
"From this time forward you are all BSU Bears," he said. "You will forever be a part of this extended Bridgewater family." (Story by John Winters, G'11, University News)