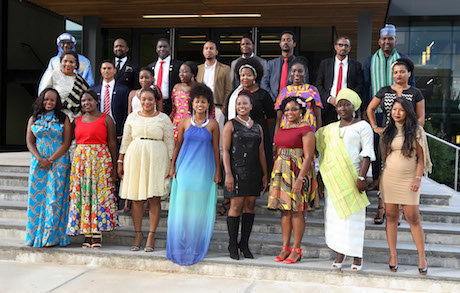 Story Series
News Feature
For the third consecutive year, Bridgewater State University has been selected by the U.S. Department of State as a partner with the Mandela Washington Fellowship, the flagship program of the Young African Leaders Initiative (YALI). The campus will host 25 of Africa's brightest emerging public-management leaders for a six-week academic and leadership institute beginning in mid-June.
Bridgewater is the only institution in Massachusetts hosting the fellows this summer. The only other host school in New England is Dartmouth College.
The announcement was made on the website of the International Research & Exchanges Board (IREX), a nonprofit organization that specializes in global education and development. BSU was one of 27 U.S. colleges and universities in 22 states and the District of Columbia that will host academic and leadership institutes for 700 Mandela Washington Fellows this summer.
According to the announcement, "The six-week institutes will help develop the young leaders' leadership skills through academic study, workshops, mentoring, networking with U.S. leaders, and collaboration with Americans. Each Institute will also offer insights into American society through site visits, leadership development, and cultural exchange. The 27 colleges and universities will help strengthen connections between the United States and Africa and establish enduring partnerships between Fellows and local communities and private businesses."
The Mandela Washington Fellowship, which began in 2014, has engaged thousands of young leaders – women, men and individuals with disabilities – from both rural and urban areas in every country in Sub-Saharan Africa. Working closely with the U.S. Department of State's Bureau of Educational Affairs and IREX, its implementing partner, host institutions are charged with designing academic programs that will challenge, inspire and empower these inspiring young leaders from Africa. Each participating institution has an area of specialty: Bridgewater's is public management. Other schools focus on either business and entrepreneurship or civic leadership. 
The Public Management Institute at Bridgewater, under the leadership of Dr. Wendy Haynes, interim assistant provost and senior international officer with the Dr. Edward W. Minnock Institute for Global Engagement, is tailored to fellows who work, or aspire to work, in various levels of government, regional or international organizations, or other publicly minded groups and think tanks. Dr. Michael Kryzanek, professor emeritus of the Department of Political Science, is the institute's academic director.
The visiting fellows, ages 25-35, have established records of accomplishment in promoting innovation and positive change in their organizations, institutions, communities and countries. 
During the six-week program, fellows take part in networking and panel discussions with each other and U.S. leaders from the public, private and nonprofit sectors. There are also field trips to places such as local homeless shelters, municipal government offices and cultural sites.
Upon returning to their home countries, the fellows continue to build the skills they have developed during their time in the United States through support from U.S. embassies, USAID, and affiliated partners, through regional conferences, professional practicum experiences and mentoring opportunities. 
For more information about the Mandela Washington Fellowship, visit youngafricanleaders.state.gov.