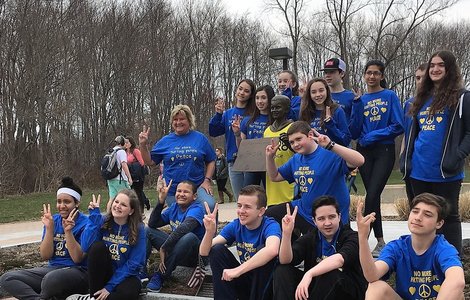 Story Series
News Feature
Eighth graders from Bridgewater Middle School recently gathered in BSU's University Park in front of the Martin Richard statue to honor his memory with a donation benefitting the foundation in his name. 
It's been five years since 8-year-old Martin became the youngest of the three spectators killed in the Boston Marathon bombings. The youngster's parents, Bill and Denise Richard, met as students at Bridgewater State, and shortly after their son's death established the Martin Richard Foundation and allowed BSU to rename its social justice center after Martin.
To support the Martin Richard Institute for Social Justice (MRISJ), Bridgewater Middle School social studies teacher Dorothy Kelly had t-shirts made carrying the same message – "No More Hurting People, Peace – found on the poster Martin was holding in that famous photo that went viral in the wake of the bombings. Revenue from t-shirt sales benefitted the Martin Richard Foundation. 
This is the second year Ms. Kelly and the Bridgewater Middle School has raised money to support the foundation. BSU joined the campaign this year, also selling t-shirts on campus through the MRISJ.
During the event, it was revealed that Ms. Kelly lobbied for and received approval from Bridgewater town council to declare April 13, 2018 Martin Richard Day. Bridgewater-Raynham school Superintendent Derek J. Swenson and Ryan Powers, assistant superintendent, read the proclamation. 
Following the ceremony, Dr. Elizabeth Englander, psychology professor and the founding director of BSU's Massachusetts Aggression Reduction Center, conducted a roundtable discussion and invited the students to share their experiences with bullying and what resources they've found to be the most effective in resolving conflict. 
"This has been very meaningful for the students," Ms. Kelly said. "Martin's message about peace and 'No more hurting people' resonates with them. This has been the perfect organization for them to get involved with." (Story by Heather Harris Michonski, University News)