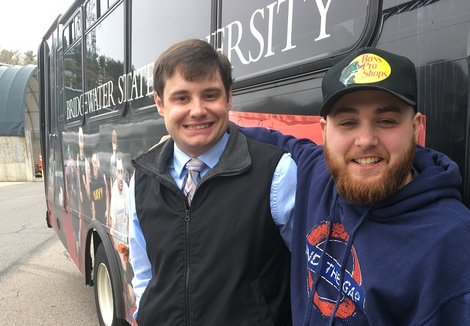 If you put a lot into what you are doing here at BSU, you will get something back.
Story Series
Meet the Graduates
Some parents and graduates boarding the transit bus during commencement might notice their driver is decked out in a cap and gown.
It's not simply because the driver is feeling festive, it's because the Bridgewater State University transit system is run by students, and the seniors who work in the program are taking their "last ride" to the stage on the Boyden Quadrangle.
The transit program is overseen by Stefanie Eaton, associate director of Facilities Management. BSU Transit employs 36 student drivers and seven student managers.
Their responsibilities include picking up and transporting community members on campus during the school year and driving BSU athletic teams as far as New Jersey to compete. Drivers also make five runs Monday through Friday to Brockton, as part of the "Boston to Bridgewater" free shuttle service.
Soon-to-be double Bear John Whittemore, '17, G'19, and Logan Healy, '19, are two of the senior transit workers scheduled to take their "last ride" on graduation day.
"This isn't your average student job, it's a lot of responsibility. Anytime I'm behind the wheel I have $1 million of liability in my two hands," John said. "There are people's lives onboard and that is something that no insurance policy can cover."
For six years John has worked for BSU Transit. During that time, he played an integral role in revamping the night service program when it was absorbed from the BSU Police.
"He helped to create and put in place much of the infrastructure for the system that we still now operate," Eaton said.
John's efforts were noticed and opened the doors to a career with the Brockton Area Transit Authority (BAT).  He currently works part-time at BAT and will transition to full-time as an assistant general manager after he collects his master's degree in business administration.
BSU leases it transit vehicles from BAT, and as a night manager John was in constant contact with administrators there to ensure the buses were safe.
"We are thrilled John recently accepted the position, as I believe it will strengthen our relationship with BAT," Eaton said. "He instinctively knew what needed to be done, how to communicate and respond professionally to every circumstance that arose, all the while keeping an optimistic and energized demeanor."
From managing employees, interacting with community members, reviewing data, safety and maintenance checks, John said working for BSU Transit helped him define his strengths and develop a skill set.
"Learning isn't always done in the classroom," he said. "We are exposed to real-life situations outside of the classroom setting and preparing for the real world… I wouldn't say driving a bus is my passion, but I found that managing and operations is. I enjoy it."
After he graduates with a degree in criminal justice, Logan is hoping to follow in John's footsteps and earn an MBA.
The Framingham native struggled early on, and didn't always take his role in transit all that seriously. His attitude caused him to be demoted from manger to driver his sophomore year.
It was a wake-up call.
"Instead of being upset, I learned from it. You can make mistakes but if you come back stronger, people can see that you've changed, they will give you another chance," Logan said.
He eventually reapplied and was hired on as a night manager.
"We know the goal is to help these students succeed and give them real-world experience," Eaton said. "However, it is never easy when they leave us, especially drivers and managers like Logan who we come to depend on so much. They just make it a safe and all around fun place to work."
As they get ready to walk across the commencement stage to collect their diplomas, both men agree that succeeding in life comes down to effort.
"Working here in transit has definitely set me up for my future, but you get out of it what you put into it," John said. "If you put a lot into what you are doing here at BSU, you will get something back."
Do you have a BSU story you'd like to share? Email stories@bridgew.edu