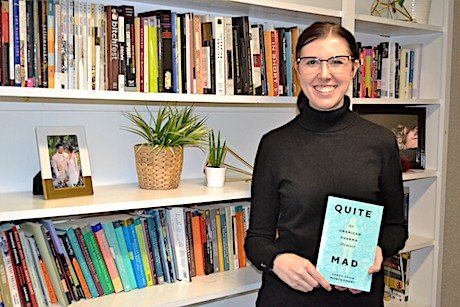 Story Series
News Feature
You might find it surprising that one in five adults struggles with mental illness, which means most likely someone you know is suffering.
It might even be you. 
Bridgewater State University English Professor Sarah Fawn Montgomery knows firsthand how debilitating mental illness can be. Her recently published memoir, Quite Mad: An American Pharma Memoir, chronicles her own journey with anxiety, PTSD and OCD, and the treatments she has explored. The book also examines the history of mental illness treatment in the United States, including lobotomies, sterilization, the "rest cure" and Prozac.
While she didn't necessarily set out to help others by writing the book, thanks to the candor of her personal narrative, Montgomery has accomplished just that.
"I wanted to write the book that I needed as a patient," she said. "As a patient I had a lot of unanswered questions. The book is part memoir, part research."
Since its release, readers have reached out and shared how Montgomery's words have provided solace and comfort. 
Montgomery structured the book in a way that allows readers to experience what it's like to have mental health issues. She uses flashbacks in sections, and elsewhere includes passages that appear to be missing periods of time.
"I wanted to try and mimic the experience of mental illness," she said. "I want (readers) to be anxious, so when they're reading it they know what it feels like to have OCD or anxiety."
The narrative surrounding mental health – that once a diagnosis is made that there is necessarily a treatment out there – is false, Montgomery said.
"We've put our faith in an easy cure narrative because it makes us feel better and takes away the fear. I understand it, but it's damaging to patients" she said. "We're told you have 'this,' and you should be better. But I have anxiety, I accept that I have anxiety, and by accepting that it makes it a lot less scary."
Ultimately, Montgomery hopes readers walk away with a better understanding and acceptance of mental illness as something not to shy away from, that it's quite normal. 
"Let's destigmatize that," she said. A mental health issue "is ongoing, and it's okay for it to resurface, it doesn't mean you have failed."
This isn't the BSU professor's first book. Montgomery is also the author of Regenerate: Poems of Mad Women, Leaving Tracks: A Prairie Guide, and The Astronaut Checks His Watch. (Photo also by Heather Harris Michonski, University News & Video)