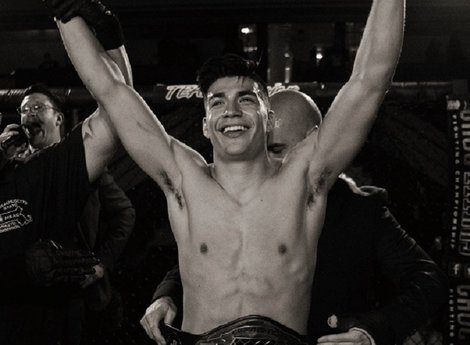 I feel like everything I do, all of my success, comes from hard work…things don't just happen you have to make them happen.
Story Series
News Feature
Going to college is somewhat of a balancing act. From managing classes and the social aspects of life on campus, to working and studying, the schedule can be tight.
No one knows this better than Bridgewater State University's Shane Dougherty.
The busy senior is pursuing dual degrees in marketing and English, double minors in Spanish and Latin American Caribbean studies, and is a member of the Sigma Chi fraternity. He has also studied abroad in Spain, and, oh yeah, recently captured an amateur mixed martial arts featherweight championship.
"I consider myself a jack of all trades," Shane said. "I definitely feel I have been given opportunities in different avenues. I am blessed."
To reach his goals requires support, and Shane says he receives an abundance from Bridgewater State.
"I definitely feel BSU helps contribute to my success, especially the professors here. Certain professors have not only mentored me academically, but in life," he said.
English professor Dr. Allyson Ferrante is one of those educators.
"Shane has always had this attitude of saying yes to all opportunities and believing in himself and enjoying the process of a liberal arts education since I met him day one as a freshman," Ferrante said.
For an entire semester, Shane studied abroad at Spain's University of Seville. While there he traveled to Morocco, France, and even camped out in the Sahara Desert where he took a once-in-a-lifetime camel ride.
He also secured an internship while studying abroad, which required him to teach entirely in Spanish.
In 2018, he presented his research at the Caribbean Studies Association Conference. The CSA is considered the premier organization of international scholars in Caribbean studies. Over the years, BSU has built a reputation for sending its undergraduates to present their research at the annual conference.
 "Traveling and studying abroad really instills a type of learning that you don't necessarily develop in a classroom," he said.
When he isn't busy at school, Shane can be found training for his next mixed martial arts match.
The student-athlete competes through the New England-based MMA promotion Cage Titans. The discipline he developed as an athlete carries over to all aspects of his life.
"I feel like everything I do, all of my success, comes from hard work…things don't just happen you have to make them happen," he said.
The bottom line, Shane said, is you have to remember to take a breath every now and then.
"If you're struggling with balance, prioritize," he said. "Take it day by day. Try not to get overwhelmed by all the things that need to get done in a month's time, but focus on what needs to be done right now."
Do you have a BSU story you'd like to share? Email stories@bridgew.edu