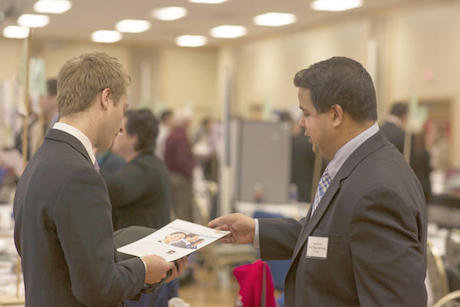 Story Series
News Feature
Thanks to a donation of $125,000 from the John Joseph Moakley Charitable Foundation, Bridgewater State University will be home to a second endowed paid internship.
President Frederick W. Clark Jr. made the announcement during Thursday night's Leadership Celebration, after speaking of the importance paid internships have made in the lives of Bridgewater students.
The president also spoke about the late congressman, for whom he worked with for 18 years.
"He would always say, and I hold these words as a model, that 'real power is the ability to say yes to people in need.' He lived to serve and to make a difference," the president said. "He put people first… And Joe Moakley's values are Bridgewater State University's values, as well."
When Rep. Moakley was diagnosed with myelodysplastic syndrome and knew his time was short, his friends, family and staff created the foundation. Quickly, nearly $2 million was raised. The fundraising continued after Rep. Moakley died in May 2001. Since then, the foundation has donated $3 million in scholarships.
The foundation decided after 15 years to give away its last $600,000 to local schools, with Bridgewater State receiving $125,000 for the paid internship program. Recent years have seen more than 450 BSU students partake in a paid internship; President Clark's goal is to get that number to 1,000. He said the Moakley Foundation's gift will help make this a reality. 
President Clark is also president of the foundation, and to present the check Thursday night, he called to the podium another longtime Moakley staffer, William H. Shaevel, who is the foundation's treasurer
The first paid internship to be endowed was done so by the family of late BSU faculty member Guy Clifford. (Story by John Winters, G '11, University News & Media; file photo)