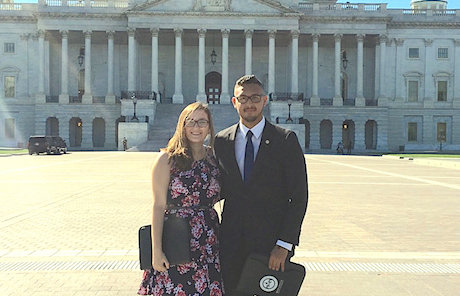 Story Series
News Feature
For Marco Cobar, '18, and Kyleigh Morin, '20, the student government workshops at a recent national conference in Washington, D.C. felt familiar. 
Very familiar. 
"The founding members of the National Student Government Summit walked up to us and told us they look at Bridgewater with regard to discussions for their workshops, especially how we handle our parliamentary procedures," said Marco, 2016-17 president for BSU's Student Government Association. "We're the only student government that they know of that broadcasts its weekly meetings. I felt honored to have our SGA be a role model of what other student governments are looking to do."
The American Student Government Association-hosted conference drew 101 colleges and universities to the nation's capital from Sept. 28 to Oct.1. BSU, attending the conference for the first time, proved to be a standout group at the government education summit.  
"Having the opportunity to represent Bridgewater at the national level meant a lot to me because it meant showing other institutions what being a Bear is really about," said Kyleigh, SGA's vice-president. "We have immense pride about everything our student government has the opportunity to do with our campus and I think that resonated with a lot of people at the national conference." 
The four-day conference, held at a hotel just two blocks from the U.S. Capitol, provided SGA's top official with the chance to share ideas, learn applicable systems and track the latest trends in student government. While the celebrity status made for a proud moment, both Marco and Kyleigh focused on how they planned to apply the lessons of the conference.
Kyleigh, a political science major, noted that SGA benefits from a supportive administrative environment which empowers organizations such as SGA. This, both Kyleigh and Marco said, adds extra motivation for SGA to pass on the support and services directly to students.  
"I want the student body to know that we are here for them," said Marco, a global business management major. "We stand with our students to better our community and provide a voice for those who feel that they need to be heard." (Story by Charlie Peters, University News & Media)