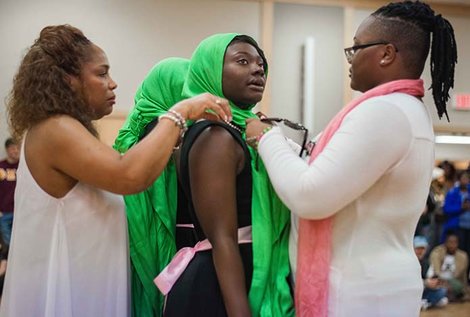 Story Series
News Feature
Over the past few weeks students were perplexed. What was up with the salmon pink- and apple green-colored flyers appearing around campus?
The mystery was solved during a historic ceremony where 13 young women were welcomed into Bridgewater State University's first-ever black Greek letter organization.
On Dec. 8, in front of their family and friends, the students were inducted into the new BSU Alpha Kappa Alpha chapter Psi Iota Omega during a ceremony held in the Rondileau Campus Center ballroom.
"It is groundbreaking for us and for Bridgewater State University so we're very, very excited," said Janet Roberts-Williams, graduate adviser for the Psi Iota Omega chapter of Alpha Kappa Alpha Sorority (AKA). The sorority was first established in 1908; its roots can be traced to Howard University, a historically black institution in Washington, D.C.
Psi Iota Omega will oversee the new chapter at BSU.
The inductees were: Christabell Baah, '19, Sky Corbin, '21, Brigitta Dzissah, '19, Brittney Francisco, '20, Camille Holts, '20, Antwonette Irenne, '19, Star-Asia Kuwornoo, '20, Geralda Morency, '19, Chelon Myles, '19, Adobi Ochijeh, '19, Jaynah Owes, '21, Tiffany Smyth, '19, and Cincere Tarkpor, '21.
"I feel excited and joyful about bringing this organization on campus," Star-Asia said. "I feel Bridgewater State University is going in the right direction of incorporating diversity on campus. Bridgewater State University has already been an institution filled with history. Now this illustrious organization can assist this campus to excel and grow and bring all walks of life together."
Dr. Joseph Oravecz, vice president of Student Affairs and Enrollment, said that adding this new chapter not only benefits the BSU campus community but also presents an opportunity to connect with other institutions nationally. He added that he hopes this event will serve as a catalyst for other organizations to expand and join the BSU fraternity and sorority life community.
"The more experiences we can be providing, that's what we need to be doing," Oravecz said. "We at BSU stand for what is right, to create a welcoming, inclusive, diverse and supportive environment – to be a fellow Bear." (Story by Heather Harris Michonski, University News & Video; Photos by Charlie Peters, Digital Communications)
Do you have a BSU story you'd like to share? Email, stories@bridgew.edu.