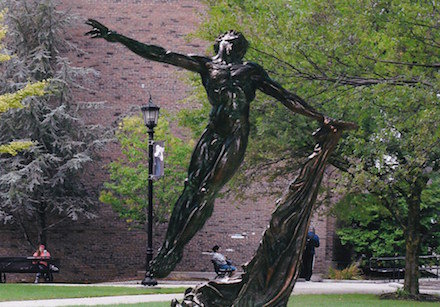 Story Series
News Feature
A life-size bronze sculpture of Mikhail Baryshnikov by Greg Wyatt will soon occupy the courtyard between the library and the Rondileau Campus Center auditorium.
Mr. Baryshnikov is a legend of stage and screen, known primarily as a dancer and choreographer. The Russian émigré is generally acknowledged to be one of the greatest ballet dancers of all time. Younger generations may know him from his recurring role in the HBO series Sex in the City.
The sculpture had previously been displayed at Winthrop House Courtyard at Harvard University from 1990 to 2016. When Harvard began renovations to the yard, the sculpture needed to be removed. 
BSU benefactor and art collector Lawrence Doherty mentioned to the artist that the university would love to have the work, and with the assistance of Jay Block, manager of collections and exhibitons, it became a reality. 
The foundation for the sculpture has been prepared, and the installation is set for early May. An official unveiling has been planned for May 8. Details to follow. (Story by John Winters, G '11, University News & Media)