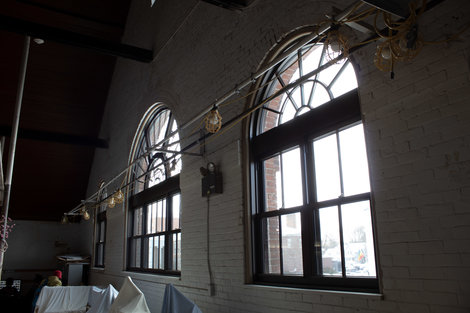 Story Series
News Feature
It's quite possible that Jay Block, Bridgewater State University's associate director of collections and exhibitions, has been staring out of the same windows in the school's Art Center as Bridgewater State Teachers College President Arthur Clarke Boyden had more than 100 years ago.
The windows date back to the original construction of the building, estimated to be in the early 1900s or late 1800s. 
The university recently completed the first phase of a two-part project to replace all 36 windows in the Art Center, the school's oldest building, located at 40 School St. on the west side of campus.
New aluminum-paned, energy efficient windows were installed on two sides of the building in phase one. 
Phase two is scheduled for next spring, when the remaining windows will also be replaced. 
"Over time the elements just took a toll, not just from the rain and snow, but sun also was deteriorating the wood," said Thomas O'Connor, director of capital planning for Operations. "The windows were in a complete state of failure. There was an urgency in terms of energy and safety."
To fix the windows, it took a team effort that included O'Connor, Block and Mia Zoino, director of grants and sponsored projects.
Together the trio applied for and was awarded a $200,000 Massachusetts Cultural Council Grant (MCC) to help replace the aging windows. Zoino took on the administrative role, making sure the application process was done correctly. 
"This is the first time Bridgewater has applied for a MCC grant, and $200,000 is the highest level of funding you can get," Block said.
In an effort to uncover the Art Center's roots, O'Connor discovered the building was initially built as a gymnasium.
"That is why there are large windows, to let in the natural light," he said.
O'Connor found drawings of the building in the state's archives and was able to resurrect the original style, down to the cranberry-colored borders.
Block, whose office is in the Art Center, said the university is proud to have been awarded the MCC grant.
"Getting the grant is a tremendous acknowledgement," Block said. "In receiving this grant, the state has acknowledged us as an important cultural site, that our cultural programming is making an impact."
Do you have a BSU story you'd like to share? Email stories@bridgew.edu.