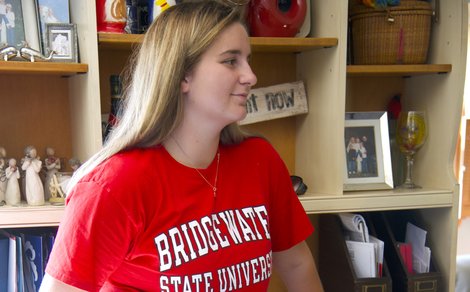 Story Series
News Feature
Nestled on the shore of Buzzards Bay, Marion is your quintessential close-knit, small Massachusetts town. It's also the only place Katherine Tracy, '22, has called home – until now.
Katherine is beginning her freshman year at Bridgewater State University, where she is studying marketing. She joins a student body of more than 11,000 – about twice the size of Marion's population. 
For Katherine, BSU stood out for its green spaces, friendly people and on-campus commuter rail service to Boston. And, it is relatively close to home but far enough away that Katherine won't run into her parents everywhere she goes.
As she said goodbye to her hometown and hello to her new room in Shea-Durgin Residence Hall, Katherine shared her perspective on moving to campus. We spoke with her before and after her big move to BSU.
You're less than a week away from moving in, what emotions are you feeling?
All of my friends have left already for school. When they were leaving, we were all sad, but now I'm just ready to go. I'm excited. It will just be different because I've lived here my whole life.
What are you nervous about?
I'll probably get lost a lot, so that won't be great. I'm not very good at laundry, so I don't know how well I'm going to do that.
Have you met your two roommates yet?
We met for ice cream sometime in July and then we have a group chat so all three of us have been texting in it. I think we're all excited. 
One of my roommates is bringing a fridge and a microwave and I'm going to bring a TV, electric tea kettle and a vacuum.
I play on the lacrosse team and one of them is a swimmer. … The swimmer and I have schedules that match up too, so we already talked about when we have to wake up.
What reminders of home are you bringing to campus?
I'm bringing lots of pictures of all my friends and my family and my dog. My mom bought me new pillows, but I think I might sneak in one of my old pillows because that's the only one I can really sleep with.  
What are you leaving behind that you will miss?
My dog (Finn, a rescue) and my mom and my dad. My siblings left (for college), so I've been alone for like a year and a half. 
What would people be surprised to learn you are considering bringing to campus?
I have this little cardboard cutout of myself because I was the only senior (at Old Rochester Regional High School) that played basketball this year. … Or, I have a Fathead of myself that my mom printed out. That might be funny to bring. I don't want anyone to think I'm too weird, though, so I might have to wait until the second semester to bring that in.
……………………………………
Now that you're a week in, how is college life? 
Pretty good. It's just really, really hot. It's been fun. Everyone is really nice.
You were worried about getting lost. Was it difficult to find your classes?
I underestimated the time to get to one class and was late. But, they're not really that hard to find and I can just ask someone.
How are you managing the record heat during the first week of the semester?
We have a refrigerator we just fill with water. We've gone through two cases of water. We sleep with cold facecloths on our heads. 
 What's one piece of advice you would give to a new freshman moving to college?
Bring three fans.
(Photos by Drew Cambra, '19, University News)