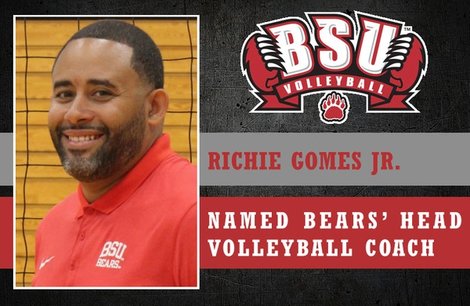 Story Series
News Feature
Bridgewater State University is welcoming Richie Gomes Jr. as the new head coach of the women's volleyball team.
Mr. Gomes' experience includes five seasons as an assistant coach at Brown University and eight seasons as the head boys volleyball coach at his alma mater, Greater New Bedford Regional Vocational Technical High School. 
"Richie brings a wealth of skill and knowledge of the sport of volleyball to BSU," said Dr. Marybeth Lamb, director of Athletics and Recreation. "His experience at Brown University with women's volleyball will no doubt elevate our players' game, both in the MASCAC as well as throughout the region.
"I am excited to see what he can do for our recruiting and I am sure that he will have an immediate impact on the team," Dr. Lamb said.
Mr. Gomes, who graduated from New England Institute of Technology in 2014, coached the top 18U team at Blast Volleyball Club from 2012 to 2015, and has served as the head coach for the Coastal Boys team at the Bay State Games since 2011.
"I'm very thankful to Dr. Marybeth Lamb for giving me this opportunity and I'm extremely excited to start this new journey as a BSU Bear along with these young ladies," said Mr. Gomes. "I'm going to give this program everything I have so we can bring it back to where it belongs." (Story by Michael Holbrook)