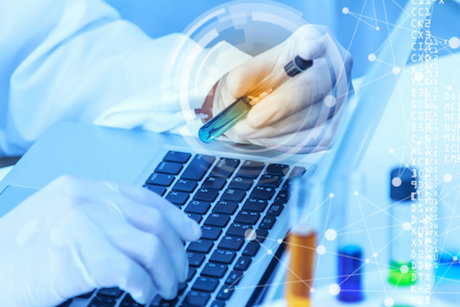 Story Series
News Feature
A $1 million grant recently awarded to Bridgewater State University is going to cause a seismic shift.
Literally.
The National Science Foundation's grant from its S-STEM program will support the Students Engaging In Scientific and Mathematical Interdisciplinary Collaborations, or, as it will be known, SEISMIC.
The scholarship and academic support program will be geared toward academically talented, low-income students, according to Dr. Thomas Kling, who is directing the program along with Dr. Colby King, Dr. Stephen Waratuke and Center for Advancement of STEM Education Dr. Jennifer Aizenman.
Nine SEISMIC scholars will be admitted to the cohort-style program each year with an award of $6,000 each, renewable for three years. The grant will be spread over five years and was procured through BSU's Office of Grants and Sponsored Projects.
"By having cohorts of nine students from different science and math fields, the SEISMIC Scholars will learn to work together and approach big, important problems in our society from an interdisciplinary perspective," Dr. Kling said. "I am particularly excited about the program because it not only provides money to the students to help them get past their financial barriers, but it also creates a community and provides a strong set of academic courses that will shape the students to be able to solve big problems that require deep thinking and the ability to listen to different points of view."
Recruitment is already underway for the first cohort of SEISMIC Scholars, who will receive scholarships for the upcoming fall semester and will work on research in BSU labs this summer. 
Part of the SEISMIC program includes a sophomore year course taught by philosophy faculty about the intersection of science and society from a humanistic perspective and a junior year course on STEM Motivation that will feature service learning in local schools.
Additionally, the program will incorporate career planning and advising. 
Dr. Kling said BSU was able obtain the grant due to it its successful implementation of a previous NSF grant for BSU's "Student Retention Enhancement Across Mathematics and Science," or STREAMS. About 30 additional science and mathematics undergraduate degrees are granted by the university each year as a result of STREAMS activities. 
Data analysis from the STREAMS grant was used to fine-tune the approach for the SEISMIC grant — and providing students with the financial means to pursue science and mathematics has never been more important, Dr. Kling said.  
"I am also personally excited about this grant from the standpoint that we are in a new era in terms of the political climate in our country," Dr. Kling said. "While I may not be able to directly influence the overall direction of the country, and I disapprove of the general lack of respect science and education will be given under the current administration, I can tend to my own garden, so to speak. Through our teaching at BSU and grants like this one, BSU faculty can directly help people better their lives and achieve an education that will make a difference in the world." (Story by John Winters, G '11; and Charlie Peters, University News & Media)