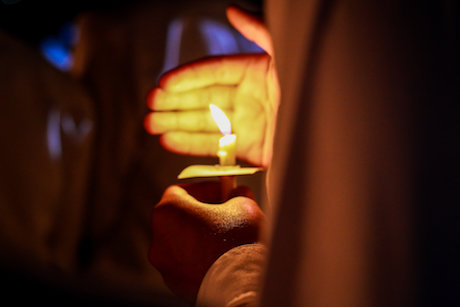 Story Series
News Feature
Those who have lost a loved one to addiction often need a safe space to cope and grieve.
On Thursday, Aug. 30, grieving family and friends can gather for the 2018 Brockton Area Candlelight Vigil, to be held on the Brockton's Massasoit Community College's quadrangle.
The event is intended to bring together community members who have lost someone to an overdose, individuals and families struggling with addiction, individuals in recovery, and those who simply want to show their support. 
This is the second year that the Bridging L.I.V.E.S. (Life Is Valued Every Second) coalition has co-sponsored the event. 
Bridging L.I.V.E.S is an extension of the Brockton Area Prevention Collaborative and made up of representatives from both the town of Bridgewater and Bridgewater State University. Members include doctors, police, firefighters, teachers, school administrators, parents, students, nurses, and council on aging staff.
Its mission is, "to prevent and reduce substance abuse by increasing awareness, providing education and offering support within the community." 
The Aug. 30 event begins at 6:30 p.m. with a ceremony set for 7p.m. Speakers, resources, musical performances and a memorial slideshow are all scheduled. 
"Events like these can help increase awareness and remove the stigma associated with addiction and overdose," said Amanda Sandoval, '12, G'18, director of preventative services, High Point Treatment Center, Brockton Area Prevention Collaborative.
Other vigil sponsors include; BAMSI, Brockton Area Prevention Collaboration, the Brockton mayor's office, Champion Plan, the Plymouth County District Attorney Office, Gandara Center, High Point Treatment Center, Learn to Cope, Massasoit Community College, Teen Challenge and Whitman Hanson WILL.