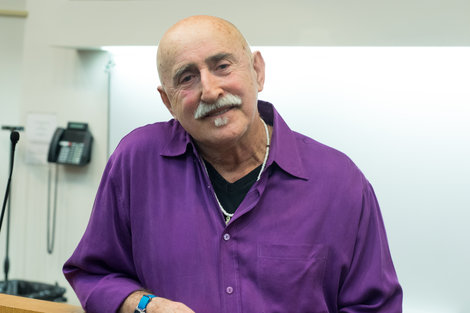 Story Series
News Feature
Standing tall in front of more than 50 Bridgewater State University students and members of the community last week, Jack Trompetter made an declaration that resonated through the Moakley Center auditorium: "I am a Holocaust survivor."
Mr. Trompetter, a Dutch-born Jew who lived through the Nazi invasion of his country as a toddler, presented his emotional story on Feb. 27 as part of an event titled "Social Work/Criminal Justice 349: Perspectives on the Holocaust."
"I have to tell you the story so that I can understand it myself," Mr. Trompetter said. "It's made me very sensitized to what has happened, and what can still happen today."
Mr. Trompetter also took questions from the audience on a wide range of topics, including Holocaust deniers, the reported rise in anti-Semitic acts reported in the United States in recent weeks, and the importance of faith for the people who survived the Holocaust.
"How we encounter the mysteries in our universe is a big deal," Mr. Trompetter said. "It doesn't matter what your faith is; just that you hear the voice that you need to hear." 
He described the Nazi raids of his Dutch hometown in vivid, shocking detail and told heart-wrenching stories — including how his father never made it to the hospital for his birth because he had already been arrested by Nazis. In another poignant moment, Mr. Trompetter explained that his mother's parents — who lived next door — were taken away on his mother's birthday. His mother was forced to act as though her parents were simply neighbors, not family, so that she was not also taken away.
Eventually, his mother gave him up temporarily to another family for his own safety. A few years later, the toddler was reunited with his parents. 
Mr. Trompetter also shared the stories of how Jews tried to evade detection from the enemy, including a method that involved leaving a Nazi-supported newspaper in front of their homes to pretend they sympathized with the aims of the Third Reich. 
"These are the experiences people lived with," Mr. Trompetter told the students. "I still can't believe this kind of thing happened in my time. "
The lessons Mr. Trompetter delivered to the BSU students centered on how the next generation of leaders may one day play a role in global events or even serve victims of trauma. 
"You are future social workers," Mr. Trompetter said. "This is where this gets to be your story."
As an adult, Mr. Trompetter took part in the Civil Rights movement of the 1960s to support another group in its struggles
"This doesn't go away. These stories, this pain… You can't forget it. You have to put it in a place and live your life. That's the best thank you I can give to the people who hid me, protected me and saved me." (Story by Charlie Peters, University News & Media; photos by Widmaer Fleuransaint, '18)