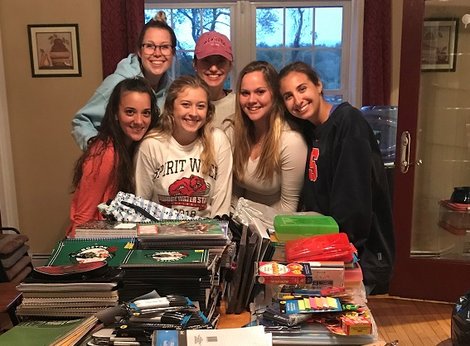 Working with the kids I learned there is so much I can't control… They taught me to appreciate the little things in life.
Story Series
News Feature
When it came time to celebrate her graduation from Bridgewater State University, Allison Carreiro didn't want a party or gifts. Instead, she asked family and friends to fulfill a special request – help provide backpacks and school supplies to poor students in the Dominican Republic.
While participating in a BSU service trip over spring break to the Caribbean republic, the Dartmouth native witnessed houses without bathrooms, children without food, and home environments that bore no resemblance to anything she was accustomed to in the United States.
Carreiro returned home inspired.
When her family asked what she wanted after collecting her degree in communication disorders in May, she requested donations to purchase school supplies for students back in the Dominican Republic.
During the week-long service trip, she and 13 other BSU students volunteered their time at the Centro Educativo El Cortecito Elementary School. The Bridgewater contingent not only helped teach the Dominican students how to speak English, but were also exposed to the conditions the youngsters lived in.
"It was definitely an eye opener for me," Carreiro said. "Working with the kids I learned there is so much I can't control… They taught me to appreciate the little things in life. They showed me that I took a lot of things for granted, and made me more appreciative of what I have."
After collecting donations, Carreiro recruited other BSU students from the trip and hosted a backpack assembly night, where 20 backpacks were filled with folders, glue sticks, crayons, pencils and other school supplies.
BSU Staff Assistant Beth Gracia will bring the supplies back to the Dominican Republic this August. The goal is to create enough backpacks so that when students return for the new school year, each will be greeted by a pack full of supplies.
Gracia and Dr. Daniel Chase, assistant professor of Movement Arts, Health Promotion and Leisure Studies, led this spring's trip. The excursion itself was initially developed by Gracia, who has traveled with her husband to the Dominican Republic for the past eight years. 
"Visitors to Punta Cana stay in beautiful resorts on gorgeous beaches but are never made aware of the incredible poverty surrounding the area," Gracia said.
Dr. Lisa Battaglino, dean of the College of Education and Allied Studies, encouraged Gracia to develop a service trip and study tour to the Dominican Republic where students could learn more about the country and volunteer at a local elementary school.
Gracia teamed up with Dr. Emily Spitzman, assistant professor of special education, to design curriculum that aligned with BSU's Teaching English to Speakers of Other Languages courses and submitted the proposal for the tour, which was then approved.
When Spitzman was unable to travel this spring, Dr. Chase volunteered to go in her place.
Gracia couldn't be happier with the trip's outcome, particularly the impact it had on Carreiro.
"For Allison to do this in such a selfless way it shows that her commitment, kindness and compassion did not disappear on the flight home," she said. "Our week in the Dominican Republic is just the beginning of an experience that lasts a lifetime."
For anyone looking to contribute to the cause, donations in the form of gift cards to stores like Walmart or Target can be either mailed or dropped off at Gracia's office, Hart 125. The mailing address is: Beth Gracia, 90 Burrill Ave., Hart Hall, Room 125, Bridgewater, MA, 02325.
Do you have a BSU story you'd like to share? email stories@bridgew.edu