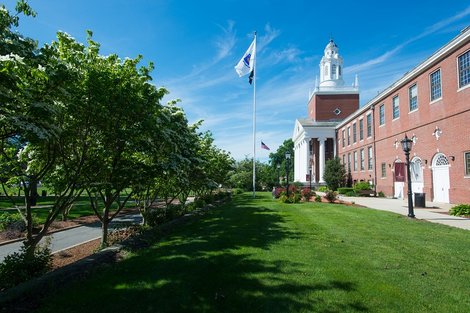 Story Series
News Feature
This summer, those visiting Bridgewater State University's west campus will want to pay closer attention to where they step due to holes in the ground.
Some might wonder if Bridgewater State University is searching for a treasure that Horace Mann might have left behind, but in fact the school is updating the 60-year-old west campus electrical primary system.
The most disruptive part of the project will take place during the upcoming summer months and involves digging trenches to install underground conduits and duct banks. In addition, transformers in every building on campus will be replaced. Maxwell Library, Rondileau Campus Center and Boyden Hall will also receive complete switch gear replacements.
Thomas O'Connor, director of capital planning, warns that the project will initially be invasive, but worth it when completed.
"The bright side is by doing this we will not only be more energy efficient but also position ourselves to move into the middle half of the century with a good infrastructure," he said.
The project is set to start June 24, and is funded by the state's Division of Capital Asset Management and Maintenance.
According to O'Connor, the current system supporting the west campus is in a decrepit state, and a failure could happen at any time, which would result in a power outage.
"It's a true emergency repair," O'Connor said.
It's impossible to fix the current system because the necessary parts are no longer available. The other issue is that the system is inadequate in terms of meeting the university's current power needs.
During the project, temporary power shutdowns are expected and will take place over the winter and spring breaks. The east side of campus will see minimal outages while some of the buildings located on the west side will be shut down for short periods of time.
Alternate work locations will be offered to accommodate faculty and staff during the power shutdowns and if residence halls are without power, the school will ensure students have access to temporary living quarters.
"All of this will be coordinated," O'Connor said.
Do you have a BSU story you'd like to share? Email stories@bridgew.edu