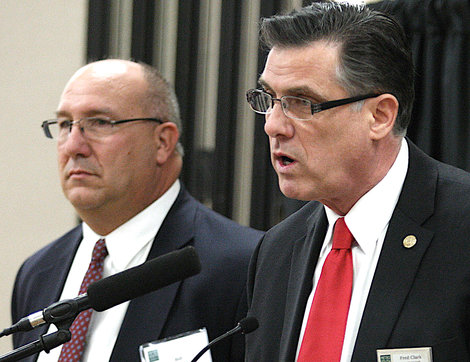 Story Series
News Feature
President Frederick W. Clark Jr. has a new position. But, don't worry Bears, he's not leaving his post leading Bridgewater State University.
Clark, a Brockton native who lives in Easton, became chair of the Metro South Chamber of Commerce's Board of Directors during the organization's recent annual meeting at Teen Challenge in Brockton. 
"To be here in this capacity is really remarkable for a son of Brockton," said Clark, who grew up on the corner of Calmar Street and Warren Avenue, just a few blocks away from Teen Challenge. "Thank you for the great honor."
Clark has worked with officials at the University of Massachusetts-Boston and Massasoit Community College to develop a public higher education consortium in Brockton. He has also convened economic and workforce development conferences and forums and led business outreach efforts.
The chamber serves Brockton and many nearby communities, including Bridgewater. And, Clark sees a synergy between its activities and the education happening at BSU.
"When I look at the number and diversity of businesses and people employed locally, I am reminded of the important work that we all do at the chamber and the work that we do over at Bridgewater State University to prepare people in this region and beyond for careers that are so essential in our economy – so essential for our economy to grow," he said.
Clark offered a unifying message to the hundreds of attendees at the annual meeting: "Together we can achieve what none of us could ever achieve by ourselves."