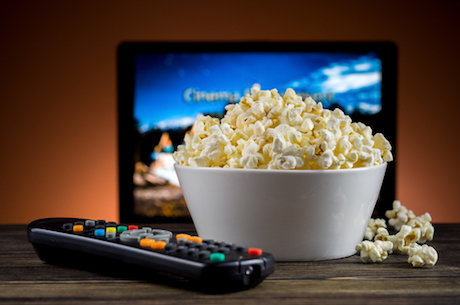 Story Series
News Feature
Three short films with ties to Bridgewater State University are among the top 25 Campus Movie Fest films of all time and being featured on Amazon's Prime Video.
Campus Movie Fest, a student film festival founded in 2001, and Prime Video recently announced a partnership where the top 25 films, out of more than 20,000 submissions, are available for viewing on Amazon's subscription streaming service. Top films from 2017-2018 will eventually be available on Prime Video.
"We're thrilled to collaborate with Prime Video to bring our students' stories to a world-wide service," Michael Seminer, vice president of partnerships for Ideas United and Campus Movie Fest, said in a statement. "This is an incredible opportunity to celebrate the work of these young filmmakers, and continue to inspire the next generation of storytellers."
The top 25 films include ones directed by Alex Perry, (Grow Grass Grow), James Sass (That Good Night) and Kevin Eam (Unattainable: A Ninja Story) while they were BSU students.
"It's an awesome honor, very humbling," said Mr. Perry, a former student who now works as a filmmaker in Los Angeles. "Campus Movie Fest is a huge opportunity for student filmmakers that I hope every student filmmaker comes to learn about."
The top 25 films include a mixture of national award winners and Campus Movie Fest staff favorites.
Grow Grass Grow, which won Best Comedy in 2010, shows how an animal lover and lawn aficionado responds when groundhogs begin tearing up his lawn. Unattainable: A Ninja Story, which won Best Cinematography in 2011, focuses on a man who must confront his past. That Good Night is about dreaming and is a staff pick. 
Campus Movie Fest challenges students to produce five-minute films in a week and provides them the technology to do so. Perry said the tight timeframe is difficult but prepares students for having to meet other deadlines.
Bridgewater State has taken part in Campus Movie Fest for about a decade. Films made by BSU students have won a variety of awards.
"I think it says Bridgewater State is a hidden gem," Mr. Perry said of having three BSU films in the top 25. "Going to Bridgewater was one of the best experiences of my life, hands down." (Story by Brian Benson, University News)