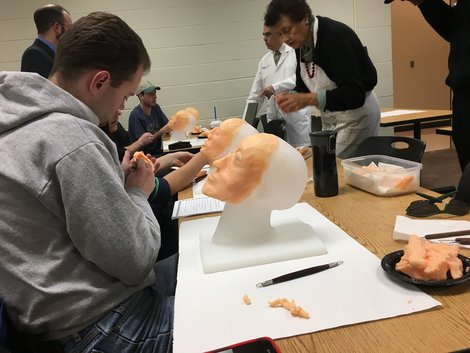 Story Series
News Feature
It would be easy to understand if someone entering Burnell Hall was startled to see students hunched over what appeared to be a human head. A closer look was just as jarring, as it revealed they were busy sculpting human ears.
No need to panic, the students were not working on an actual head, rather, they were using a model to learn how to reconstruct aspects of the human anatomy as part of their training to become funeral directors.
Restorative art is just part of the funeral service program at Bridgewater State University. Through the program, students learn what it takes to work in the funeral business, from marketing and merchandising, to dealing with bereavement issues, to learning the science of embalming.
The program arrived at BSU this fall in a non-traditional way. After Mt. Ida College shut its doors for good in May, many students were left scrambling, including those enrolled in the school's funeral service program.
To save the program, Cape Cod Community College (CCCC) partnered with Bridgewater.
The American Board of Funeral Service Education approved CCCC's "teach-out" plan which enables the school to continue the program for former Mount Ida students interested in completing their degrees.
In a unique move, the program is run through CCCC, but housed by BSU.
"We are ecstatic, the people at Bridgewater have been accommodating and welcoming," said Daniel Shea, CCCC assistant professor who teaches in the program. "Coming from a four-year institution, this lets us give our students some of the same things we had at Mt. Ida."
Taking classes on campus isn't the only thing funeral service program students enjoy, they also have access to amenities that include campus cafeterias, the library and gym. Living on campus is also an option.
Ashley Letourneau of Acushnet is one of the former Mt. Ida students who is set to earn her degree from the funeral service program at the close of this semester.
"I attended Mt. Ida and the unknown was crazy. Then we got notification we were coming here and it's been fantastic," she said "I couldn't ask for anything better. We've been able to continue our classes and our education. I can't even tell you how great it's been."
CCCC is now seeking approval for on-going accreditation of the funeral service program for new students.
"Being on the BSU campus, it's a big name and centrally located. I have a feeling our program will grow bigger than it was before because we are located at a state university," Shea said.
If approved, the goal is to accept new students this fall.
"Our hope is to continue to be here and grow here," Shea said. (Story by Heather Harris, University News and Video)
Do you have a BSU story you'd like to share? Email stories@bridgew.edu.