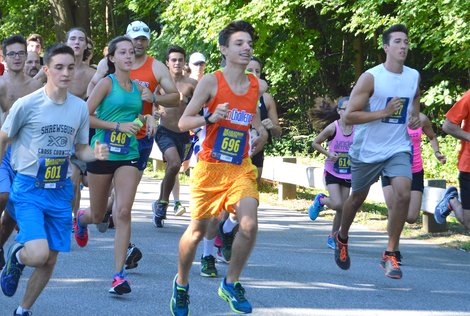 Story Series
News Feature
Steep hills and drops will greet runners along the route of the seventh annual Kicking Butt for Crohn's 5K road race. That's just as the event's organizer, a Bridgewater State University student, envisioned it.
"It's definitely a challenging road race," said James Canzano, '21. "I designed it not to be easy because Crohn's isn't easy to deal with."
When his older sister Annie was first diagnosed with Crohn's disease in 2011, it was the first time James had ever heard of the disease. Three years later his younger sister Mary was also diagnosed. 
Crohn's disease is a chronic inflammatory condition of the gastrointestinal tract. Symptoms can include persistent diarrhea, rectal bleeding and abdominal cramps and pain.
After her initial diagnosis, Annie missed most of eighth grade. Watching his sister struggle inspired James, then only 12, to help.
 "Giving back is something that has always been part of our family," he said. 
He looked for motivation to his father Dana, who runs marathons and participates in bike races to benefit the Crohn's and Colitis Foundation (CCFA).
"I decided to start my own road race. I enjoy running and thought it was the easiest way for me to bring awareness," said James, who is a member of the BSU cross-country team.
"We didn't know how successful it would be, but took the idea and moved forward with it," he said. 
In its inaugural year the Kicking Butt for Crohn's 5K saw some 200 runners sign up, raising more than $5,000. 
Since then the event raises around $7,000 annually. All proceeds go directly to CCFA.
The race is always held in Shrewsbury, James's hometown. This year it is scheduled for Saturday, Aug. 25, and steps off at 9 a.m. at Dean Park. Registration opens at 7 a.m. 
Pre-registration is $20 per runner or $25 on race day. Runners can pre-register online at www.kickingbuttforcrohns.org.
James still hasn't declared a major but is looking to pull from the experience he's gained through organizing the road race to help him decide.
"This is something I want to continue to do. It interests me to figure out a major related to fundraising," he said. "It's been great to grow a community where people have a better understanding of Crohn's."