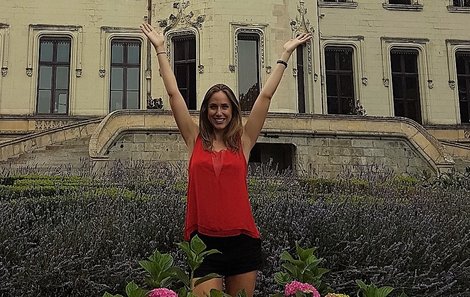 Story Series
News Feature
A decade ago, Tracey Livingston, '08, was crossing the commencement stage at what was then called Bridgewater State College. Today, she's in front of movie cameras on the grounds of a castle in Nantes, France.  
Her journey from Bridgewater to Nantes is one filled with twists and turns, all spurred on by Ms. Livingston's decision to leave the traditional 9-to-5 workaday world to explore opportunities better aligned with, what she calls, her sense of purpose.
"I couldn't have planned this life, but I always believed all the breadcrumbs along the way were signs that I was either on or off track," she said. 
She was definitely on track: She moved to London several years ago, put down fresh roots there, and started her own successful life coach business. 
Her life took another propitious turn 10 months ago, when Chris LaVoie, founder of LaVoie Films, reached out to Ms. Livingston and asked her to travel to France to work on his Amazon Prime docu-series, The Retreat. He discovered her on Instagram where she advertises her services as a global coach and spiritual counsel. 
After listening to his pitch, she agreed to collaborate with him. This summer, she traveled to France to work with Mr. Lavoie on the film as lead coach and facilitator.  
Ms. Livingston worked with 30 people from all over the world and was filmed leading sessions that explored topics covering values, love, marriage, dating, and intimacy.  
"The goal was to get people to have transformational insights and breakthroughs," Ms. Livingston said. 
She credits political science Professor Jordon Barkalow, and the knowledge gained in his political theory class, for guiding her on her journey.
"My job is to help students like Tracey develop what is already inside of them. I just had to open the door for her. She did the rest," Dr. Barkalow said. 
Upon graduating from Bridgewater, Ms. Livingston moved to Washington, D.C., where she earned a master's degree in public policy from American University, and took on a position working in international education.
On a trip to London she met a man in a pub who changed her life. There was an undeniable connection between this man, named Christopher, and the two began a successful long-distance relationship. Eventually the time came to decide who was going to move. 
Ms. Livingston offered to take the leap and journeyed across the pond to settle in London. 
"After leaving D.C., my life caught fire," she said. 
Because she couldn't work in the corporate world legally on a tourist visa, it forced her to explore other options.
That's when she discovered and became involved in coaching and helping others. 
The couple has since married, and Ms. Livingston started her business, the one that eventually led her to a documentary film shoot in France. 
Looking back, Ms. Livingston says her time at BSU, where she doubled majored in psychology and political science, played a part in helping her prepare her for the future. As an undergrad she earned a scholarship that took her to a women's leadership conference in Dubai. She also traveled on a service-learning trip to Belize. 
"BSU opened me up globally," she said. 
Dr. Barkalow said he couldn't be happier for his former student.
"She is doing something she is passionate about," Dr. Barkalow said. "What impresses me the most about where she is today is the path that she took. Too often students want direct paths to their goals. From my perspective, there is no fun in this and you are almost guaranteed to be disappointed."
Ms. Livingston's advice to current students? 
"Always be learning. Be open to the possibilities," she said. "If it feels good and you enjoy it, go after it. If a career doesn't feel right. Trust it. Relax and know it's informal learning."