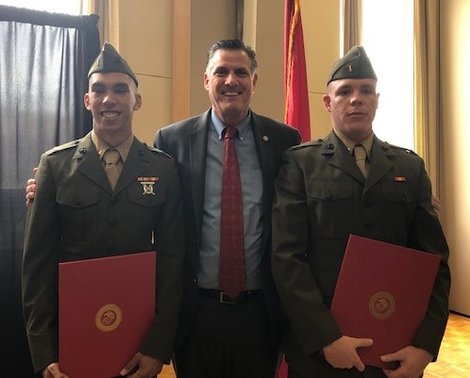 Story Series
News Feature
As undergraduates, Cameron James Stanley and Charles Gustas lived by Bridgewater State University's motto, "Not to be Ministered Unto but to Minister. Now officers in the United States Marines Corps, the recent graduates will add another,  "Semper Fidelis" (Always Faithful).
On May 19, President Frederick W. Clark Jr., '83, was present at the men's commissioning ceremony. During the event both were sworn in as second lieutenants.
Prior to coming to BSU, Stanley, who earned his degree in criminal justice, served in the Marine Corps reserves for four-and-a-half years. He reached the rank of corporal before being commissioned.
As a student at Bridgewater, Stanley said he gained valuable insight into other cultures, ideas and beliefs that he will take with him as he embarks on his military career.
"I was able to learn alongside some of the greatest minds," he said. "It has given me the drive to better myself in every way possible in order to uphold the standard that was set on this campus by the faculty, staff and students."
Gustas also feels his time at Bridgewater helped him prepare for the next leg of his journey, which will be the six-month basic training program required of all new Marine officers. 
"BSU has supported us throughout this process and has given us the tools we need to succeed in the future," he said.
Once both men complete basic training, Stanley will attend Naval Aviator School in Pensacola, Florida, while Gustas heads off to the Infantry Officer Course in Quantico, Virginia.
Stanley and Gustas both offer similar advice to anyone trying to map out their futures.
"Do your research. Figure out what you want and mark out a path to get it. Work hard, like anything in life you get back what you put in," Gustas said.
Stanley encourages Bridgewater students not to rule out a career in the military.
"BSU students are a different breed of scholars. I know that if anyone from this university decided to serve their country, they would excel," he said.
Do you have a BSU story you'd like to share? Email stories@bridgew.edu