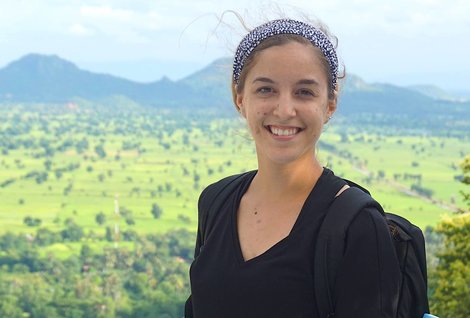 Story Series
News Feature
Mikayla Cote, '17, is the third person affiliated with Bridgewater State University to earn a Fulbright award this year. This third Fulbright award in a single year represents a record high for Bridgewater State.
The Plymouth resident was awarded a research grant and will spend the next academic year in Phnom Penh, building and testing a wastewater reactor with support from Paññāsāstra University of Cambodia and Wetlands Work, Ltd. 
This foundational research aims to improve public health and the environment in Phnom Penh with the hope that Mikayla's work can eventually be applied globally.
Mikayla transferred to BSU from the University of Massachusetts Boston. While at BSU, she majored in biology, and conducted microbiological research under the mentorship of Dr. Jenna Mendell. In 2016, she received an Adrian Tinsley Program summer grant to fund her research. She has travelled to Cambodia to conduct research as part of two BSU travel courses, and then again as part of an internship funded by a Bartlett Internship Award. 
BSU's Fulbright process would not be possible without faculty and staff across campus. Of particular note are campus interview committee members Drs. Deborah Nemko and Caitlin Fisher-Reid; recommenders Drs. Mendell, Fisher-Reid, and Taber Hand, Founder of Wetlands Work; and the members of the Fellowships Advisory Board: Drs. Alba Aragon, James Crowley, Diana Fox, Cindy Kane, Saritha Nellutla, Minae Savas, Jenny Shanahan, Ellen Scheible, Wing-kai To, and Katie Lorge.