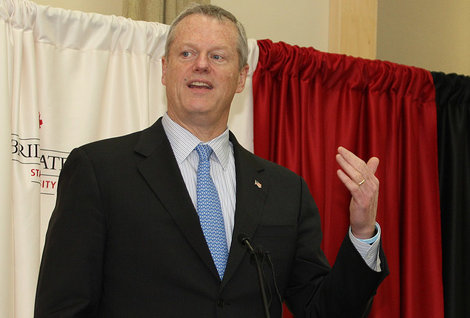 Story Series
News Feature
The Bay State has broken the upward trend in the number of fatal opioid-related overdoses, but officials must not rest on their laurels.
That was the key message shared by Gov. Charlie Baker before representatives of law enforcement, educational, recovery and other organizations gathered in the Rondileau Campus Center Ballroom for the Plymouth County Drug Abuse Task Force's annual conference.
"This is a relentless disease," Gov. Baker said. "It has no feelings. It takes no prisoners and we have to fight it every day and we have to recognize and understand that means staying on it."
State public health officials estimate there were 1,977 opioid-related overdose deaths in 2017, down 8.3 percent from 2,155 in 2016. The governor highlighted progress expanding treatment beds, providing more education to prescribers, increasing funding to combat addiction and other steps.
The task force brings together a variety of local constituents devoted to battling addiction to share information and track trends within the county. The group, led by District Attorney Timothy Cruz and Sheriff Joseph McDonald Jr., also includes Bridgewater State President Frederick W. Clark Jr.
Organizations must continue to work on a variety of areas, including supporting people in recovery and grandmothers who are raising kids whose parents are dead, incarcerated or otherwise unable to care for them because of addiction, Sheriff McDonald said.
"Addiction and access to drugs is not limited by borders," he said. "We will continue and increase the conversations we are having with our neighboring counties."
Conference attendees listened to speakers and watched a performance by Drug Story Theater, which provides improvisational theater opportunities to teens in the early stages of recovery from drugs and alcohol. The teens create theatrical pieces that incorporate their own stories and perform them for middle and high school students. The task force awarded Chris Mello the Lifetime Achievement Award for his work with Teen Challenge Brockton, which helps drug addicts and alcoholics through a residential, Christian faith-based program.
Bridgewater State University student Kevin Rosario, regional outreach representative for Gosnold Treatment Center, captivated the crowd as he shared his journey from drug addict to a dedicated employee of a treatment organization.
Mr. Rosario recalled smoking marijuana as a middle schooler as he sought to fit in with people older than him. 
"The rest of my life was a series of bad decisions and lack of impulse control," he said, tracing an escalation in drug use that eventually led to using heroin.
Mr. Rosario said he is in long-term recovery, but is helping others battling addiction. Recovery may not be successful on the first try, but perseverance is important, Mr. Rosario and Gov. Baker said.
"What you guys are doing is really important. It really matters," Mr. Rosario said, urging people to continue initiatives such as administering the overdose reversal drug naloxone. "All we know for sure is one thing – dead people don't recover."