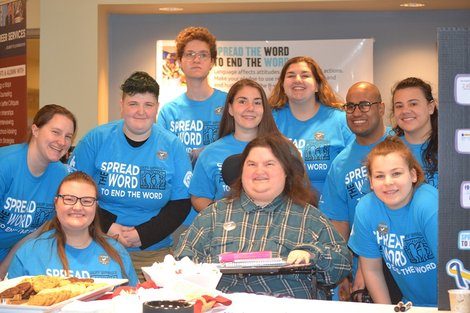 Story Series
News Feature
It would be shocking to hear a parent yell out to his or her child, "Come here, bimbo!"
But once upon a time, "bimbo" was used as a shortened version of "bambino," the Italian word for "little child." 
Over time, words can take on new meanings, and for a group of volunteers at Bridgewater State University it's important to get folks to understand that certain words can and do hurt, even if they were once deemed acceptable.
Sophie Scrimgeour, '21, president of the BSU Best Buddies Chapter, recently teamed up with the Martin Richard Institute for Social Justice to bring the international R-Word, Spread the Word to End the Word campaign to campus.
In the 1950s, the word "retarded" was used as a medical diagnosis, but over the years it has taken on a more negative meaning.
"The campaign is to get rid of the R-word, to eradicate it from our vocabulary and build more inclusive communities," Sophie said. "We want to replace the word with respect, empowerment and encouragement."
On March 21, Sophie and other Best Buddy volunteers set up shop in the bottom floor of the Rondileau Campus Center. Donned in blue, "Spread the Word" t-shirts they invited the BSU community to take the pledge and no longer use the R-word.
Instead, they asked people to replace it with a more positive message. Those who took part held up signs sharing their personal pledge.
Senior Abby McWha of Beverly shared her sign that read, "Instead I'll Spread #Smiles."
"I took the pledge because it's the right thing to do and everybody can use a smile," she said.
Volunteer Ben Barker, '22, of Plymouth, said he never uses the R-word and hopes the campaign encourages others to follow suit.
"It's important that people realize its offensive and understand how using the R-word makes people feel," Ben said.
For those who think words don't matter, they are mistaken.
"Words matter in their impact," said Dr. Kelly Broztman, executive director of the Martin Richard Institute for Social Justice. "The sayer of a word doesn't get to decide the impact, the receiver of the word gets to decide whether or not it has an impact.
"The R-word is offensive because it reduces a person to just one thing, it objectifies them… People have dignity and worth, when you reduce them to one condition or circumstance, you violate their dignity."
It's refreshing to see how students engaged in advocacy by organizing the campaign, Brotzman added.
"Students in general are at an ideal place in education to practice advocacy and activism," she said. "It's important for us to support students taking up advocacy because in order to change systems and structures we have to be engaged." (Photos by Heather Harris Michonski, University News & Video)
Do you have a BSU story you'd like to share? email stories@bridgew.edu