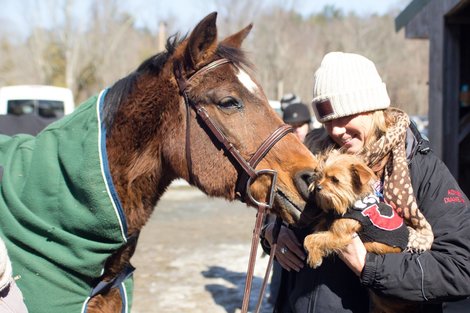 Story Series
News Feature
How do you celebrate a milestone? Combine 26 horses, a special group of supporters and a dedicated squad of Bridgewater State University riders.
The university's equestrian team hosted its first home match in the program's decade of existence last month. The event was held at Reunion Farm in Plympton, and riders from several schools braved the cold to showcase their talents in an Intercollegiate Horse Show Association (IHSA) competition co-hosted by Curry College. 
"Our first horse show was a success because the team worked very hard to make it happen," said equestrian team founder and current adviser Diane Nicol, who is an officer with the Bridgewater State University Police Department. "At BSU, teamwork is the way to go. I love being the BSU equestrian team adviser because I get so much joy being with my horse ladies. They are the hardest working group of students I know."
The Geraldine Burnet-coached team could not have held the event without the support of former longtime university trustee Louis Ricciardi, '81, and Macaela Burnet.
See additional photos from the event.
The riders — which included 8 from BSU — said adrenaline carried them through what turned out to be a frosty morning, as temperatures never exceeded 25 degrees.
"The cold on Sunday was definitely not ideal; it's tough on the people as well as the horses," said equestrian team President Anne O'Brien, '17. "Some of the horses will act a little 'hot,' or amped up, when it is excessively cold, which can make for an interesting ride in the show ring."
The celebrations for the equestrian team weren't limited to what happened in the saddle. Team member Kelly Thies recently won the IHSA art program contest to provide cover art for the national show program.
In addition BSU's team celebrating its 10-year anniversary, the IHSA — which includes other institutions such as Boston University and Tufts University — turns 50 in 2017. The fact that BSU is a member of such a competitive organization as the IHSA is an added bonus to an already enriching campus experience, Ms. O'Brien said.
"As a transfer student and a commuter, I was not sure how to fit in on campus. This team has given me a wonderful niche that I hold very close," Ms. O'Brien, who noted her three-year run as president honed her leadership and management skills and will be followed as the team's leader by Jeanna Meloni, '20. "Being a part of this team has allowed me to make friends with a great group of people who have like-minded interests." (Story by Charlie Peters, University News; photos by Ezechiaste Pompilus, '19)