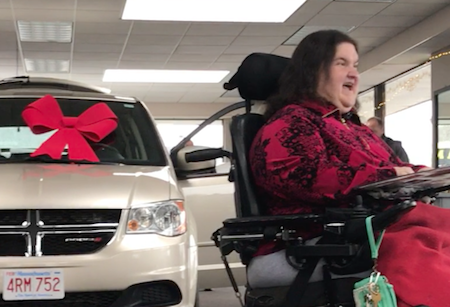 Story Series
News Feature
Far too often, Jillian Bzdula, '18, literally felt stuck when it came to getting a lift to school.
Diagnosed as a toddler with a form of muscular dystrophy, the Taunton resident has been in a wheelchair since she was 11 years old. None of this has ever stopped her.
However, Jillian's path to obtaining an education at Bridgewater State University was too often impacted by a creaky 1997 Dodge van with a faulty lift — one that far too often froze up when she needed to get to class.
Ever the resourceful student, Jillian decided to do something about her situation and asked someone for help. But not just anyone: One of the wealthiest people in the world.
Billionaire Warren Buffett and his foundation answered her request with a $25,000 donation that was put toward a 2014 van. The vehicle was presented to Jillian during a ceremony that included BSU President Frederick W. Clark Jr., as well as friends, family and members of the local media.
"Jillian is one of our star students and we realized in talking to her that she was really overcoming an incredible obstacle — and it was her van," said President Clark during the ceremony, which was held at Bridgewater's Automotive Innovations, which also made a significant donation toward the effort. "It was her terrible, horrible van that was breaking down on a constant basis, and you can't succeed as a student if you can't get there."
So Jillian wrote to the Buffett Foundation in July of 2016, and included letters of recommendation from President Clark and Bristol Community College President Jack Sbrega. The result of those efforts was a specially equipped 2014 Dodge van, replete with a rear-accessible ramp.
"I don't even know what to say — I'm at a loss for words," Jillian said after she was handed the keys. "It's truly a miracle and I never have to worry about getting to class again."
Jillian also thanked the university's facilities and operations team, who often made repairs to the old Dodge to keep it on the road. But once it died for good in early March in front of her mobility clinic, new wheels became an absolute necessity.
That's where Jim Sanders of Automotive Innovations came in. The only full-service mobility dealership in New England, which sits on the border of Bridgewater and West Bridgewater, the company discounted the price of the new van by $5,000 — making the impossible dream of a dependable van finally become a reality. BSU also pitched in, drawing funds from a special student emergency fund.
Now that the worry of transportation has been solved, Jillian can move on to her next dream – graduating and then becoming an advocate for people with disabilities or a television sportscaster.
"Many of our students have a real hunger and a desire for an education," President Clark said. "They really work hard to get to campus and then to get through the program, and ultimately, to graduate. Nobody represents that more than Jillian. She has such a burning desire for education." (Story and photo by Charlie Peters, University News & Media)