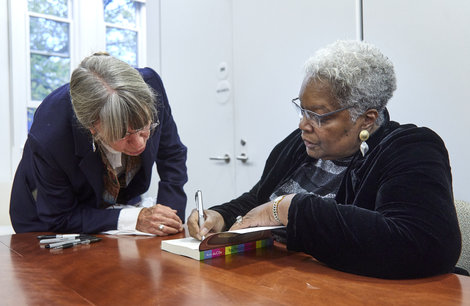 Story Series
News Feature
Dr. Ann duCille who spent four decades as a college professor, has written a book examining the connections between race and television. Published in September by Duke University Press, Technicolored: Reflections on Race in the Time of TV , finds the feminist critic and scholar – as well as one-time Bridgewater State English professor – looking at the ways race has been depicted on the small screen over the past 60 years.
In her new book, duCille contends that television influences how people view the world, and suggests that producers too often portray blacks as villains, victims, and other unflattering stereotypes.
"I don't think we should indulge in some kind of censorship or only show positives, but I would just argue for more variety," duCille said. "I see so many of the same type of characters."
DuCille, who earned graduate degrees in American civilization and creative writing from Brown University after receiving her undergraduate degree in English, says Bridgewater faculty members helped spark her interest in teaching. In fact, she recalls how she took Dr. Joseph DeRocco's course in the Romantic poets twice – once for a grade and once just for fun.
"It was just a wonderful time to be young and in love with learning," she said. "It was so important and such a gift from the Bridgewater faculty that I hoped I would be able to pay it forward and pass it on to my students." 
DuCille was one of the first three black women on the faculty at Hamilton College, where her career began. She spent most of the ensuing years at Wesleyan University, and currently serves as visiting professor of gender studies at Brown's Pembroke Center for Teaching and Research on Women.
She fondly recalls her time as a Bridgewater student, when she attended with childhood friends Janice Dunlevy and Lynn (Santilli) Geyer, both class of '71; and made new lifelong acquaintances in sisters Josephine,'71, and Ursula, '73, Bernard. 
DuCille acknowledges that her undergraduate experience set her on the path to becoming the educator, theorist and writer she is today.
"Although there was a part of me that fantasized about being a lawyer, I think it was always in me to be a teacher and Bridgewater was the place to go," she said.
Do you have a BSU story you'd like to share? Email stories@bridgew.edu.