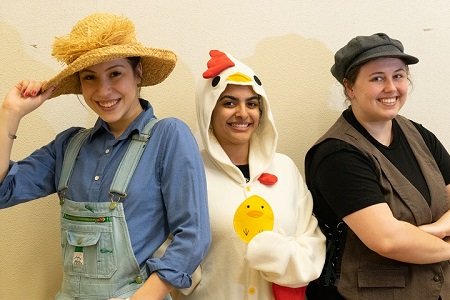 That level of creativity isn't something to be shied away from. You lean into it.
Story Series
News Feature
Wizard of Oz-themed shows are theatrical mainstays, but wait until you see what thespians from Bridgewater State University and Foxboro High School have in store.
Their upcoming production, After Oz, tells what happens following the classic tale's ending. And, don't think about sinking comfortably into an auditorium seat for this immersive performance.
"Immersive is more interactive than a regular show," explained Bridget Buckley, '19, a theater education major from Hopkinton who plays Dorothy in part of the production. "You're up on your feet. There might be food given to you. There is some coloring involved. You might get imprisoned with us."
During each performance, audience members interact with characters. This fact should please children who struggle to sit through a normal production.
Bridget and her classmates in Dr. Colleen Rua's Children's Theater Tour wrote the three-track show as an adaptation of L. Frank Baum's books. They're working side-by-side with Foxboro students to perform Thursday, Friday and Saturday at Foxboro High School.
This isn't the Department of Theatre's only recent foray into immersive productions. Students also performed Thornton Wilder's The Skin of Our Teeth to sold out audiences who moved from room to room with actors.
The Foxboro-BSU partnership gives Bridgewater students theater education experience, a career path many may pursue.
"I'm really hoping the Foxboro students will see the BSU students as mentors, as well as models for what the college experience is like," said Rua, an assistant professor.
During the show, students aim to teach children in the audience, and not just about what happens to Oz characters. They pulled from Massachusetts educational frameworks in designing activities for kids. 
The production requires teamwork and imagination. Samuel Mosher, '20, a theater education and secondary education major from Middleboro, knows that's a recipe for success.
"That level of creativity isn't something to be shied away from," said Samuel, who plays the characters Dr. Pipt and Nome King. "You lean into it."
Click here for tickets and more information.