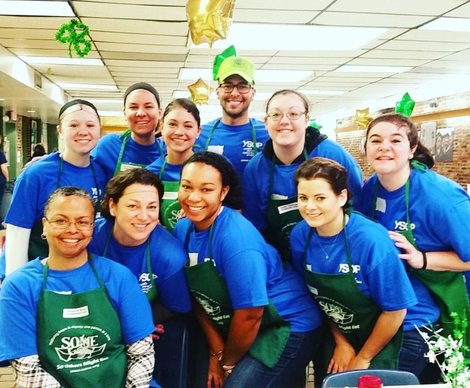 Story Series
News Feature
Three alternative spring break trips recently sent students across the United States to lend a hand with various worthwhile projects.
The students worked with Habitat for Humanity of Eastern Connecticut, the Sioux YMCA in Dupree, S.D., and Youth Service Opportunities Project (YSOP) in Washington, DC.
"The alternative spring break program allows students to immerse themselves in the communities they are serving, where they learn about the social justice issues impacting those communities," said Jennifer Thibodeau, director of the Community Service Center. "Participants are actively engaged in the process and it can greatly impact their perspectives and many have said it's been a life-changing experience. They serve, they reflect and they grow, it's powerful and it's important."
In Sterling, Conn., a group of students assisted in the rehabilitation of home for a family in need.
 The students in South Dakota spent the week working with the children of the Cheyenne River Sioux Tribe Reservation.
Their time was spent volunteering in tribal schools, in the local communities, and at the organization's Camp Leslie Marrowbone.
YSOP inspires participants to broaden their perspectives and become engaged citizens by involving students in a variety of projects that focus on root causes of poverty, hunger and homelessness. Participants are encouraged to take what they have learned back home and become active, engaged citizens. BSU students had the chance to work in soup kitchens, shelters and food pantries, and help distribute furniture, clothing and children's supplies.
The alternative spring break program is operated out of BSU's Community Service Center. Each trip offers students the opportunity to explore important social justice issues, as well as the chance to learn about their root causes. The program is designed to develop future leaders who will become active citizens with the knowledge and concern for solving our world's most pressing social problems. (Story by John Winters, G '11, University News & Media)