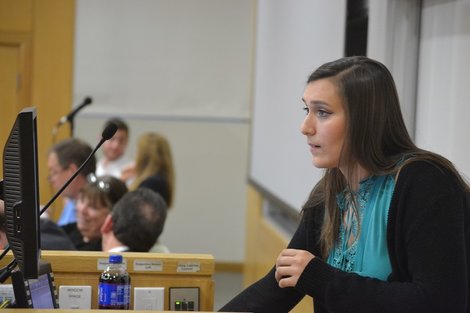 Story Series
News Feature
The creativity was on full display at the second installment of Bridgewater State University's Shark Tank, hosted by the Ricciardi College of Business.
The event is run similar to the popular television show where contestants pitch their business ideas to a panel of judges. In this case, students pitch their ideas to a panel comprised of alumni and Foundation board members.
This year's winner, Celia Pugsley, '19, will use the $3,500 grand prize toward The Cubed Kiosk, a business she hopes to launch that will allow customers to create their own greeting cards at strategically placed kiosks in retail stores.
"It's an idea I've always had," she said. "I saw the Shark Tank ad and thought, 'Why not see what other people think about this?'"
The judges evidently believe Celia is onto something.
"I love the idea, that you've found a niche," said judge Keith Benoit, '81.
Other judges this year included former chairman and member of the Board of Trustees Louis Ricciardi, '81; President of the American Marketing Association Matthew Bourgeois, '19; President of MCG Partners Adrienne Mollor, '94; owner of BTC-Boston Colleen Tuner, '83; Foundation Trustee Andrew Sullivan, '87; and President of Performance Training Associates Inc. Ron Zigmont, '87.
Each of the six presenters was given eight minutes to pitch his/her idea. At the end of each presentation the judges were allowed to ask questions.
Thomas Magee, '91, emceed the event, with Ricciardi, David Rumrill, '91, and Ellen Oliver, '82, G'89, serving as consultants.
Two presentations shared second place, each earning $1,750 prizes. The presenters were Daniel Moriarty, and the "Testimony" team, comprised of Jacob Coffey, Scott Delaney and Bruce Durand. All are seniors.
The idea behind Testimony is to make history education accessible to everyone by using 3-D scanning and printing to create artifacts and scale models of archeological sites. They also plan to create virtual reality experiences, among other things.
Daniel Moriarty hopes to put his winnings toward his business SouthCoast Creations, a content creation service.
Disha Bhavsar, '20, plans to use the $1,000 third-place prize to bring about more BSU school spirit. Her Bear-O-Meter idea consists of using a tracking system to reward students who attend campus events.
Honorable mentions were also awarded to Petroy Thompson, '21, with iLLMind Studio and Taka Ishikawa with Taka Inc. Both took home $500.
Ricciardi donated $7,000 toward the prizes. With the prize winners hailing from various disciplines, including marketing, archeology, economics and political science, he said: "It tells you that the reach of the BSU Shark Tank is getting broader and broader."
Mr. Magee added, "We want to make sure next year at this event the room is filled to the brim with representatives from all of the colleges."
Do you have a BSU story you'd like to share? email stories@bridgew.edu