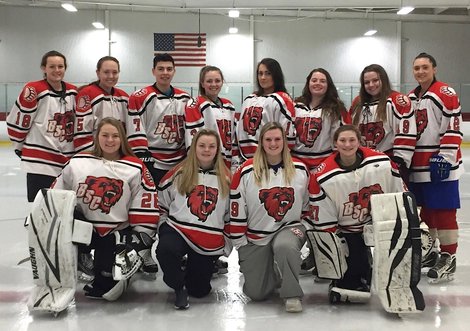 Story Series
News Feature
When Samantha Hayes, '19, arrived as a freshman at Bridgewater State University something didn't feel quite right. Samantha, who played ice hockey while growing up, had no outlet to continue pursuing one of her passions.
"I've just always loved hockey," said Samantha, who is from Norwood.  "It was definitely weird coming to college and not playing hockey."
So, Samantha and Kathryn Jacobson, '19, who play together on the field hockey team, sought to start a women's ice hockey club team. They worked last school year to complete necessary paperwork and set the foundation. The team's dozen players competed in their first games this school year, even picking up three victories. The team played one home game at Bridgewater Ice Arena but hopes to schedule more games in town and become a full member of the Independent Women's Club Hockey League next season.
The squad, led by Coach Daniel Norton, '09, is open to female undergraduate students with any level of experience and their own equipment. Samantha would like to see the team grow, although it is already making a difference in players' lives.
"It's definitely brought girls together," said Samantha, the club's president. "We've made new friendships and are having a different experience in college I didn't think we would get the opportunity to have."
Samantha praised assistance from the men's club ice hockey team, the university and others. Players have raised money to support the team and are looking for more fundraising opportunities. 
"We have a lot of fun," she said.  "We've learned so much from Coach Dan and we really grew from each other."
For more information, contact Hayes at S4HAYES@student.bridgew.edu. (Story by Brian Benson, University News)