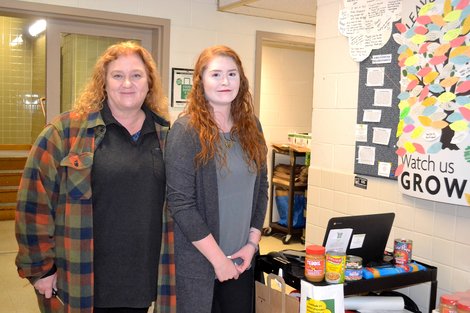 Story Series
News Feature
It's typically never a good idea to "feed the bears," but Bridgewater State University encourages the practice because, believe it or not, many students struggle with the challenges of hunger and food insecurity.  
To ensure no student goes without, each Wednesday Jane Doherty and her daughter Julia travel to New Bedford to pick up 500 pounds of food that is then distributed out of J's Market, a new food distribution center on campus created through a community partnership between the university's Food Bank 4 U and the Greater Boston Food Bank.
"I love being surrounding by food. It's like Christmas," Julia said. 
Back in 2014, the mother-daughter team recognized there were students struggling with hunger. Using a $1,000 social justice grant they were able to open Food Bank 4 U in the campus center.
Operated by volunteers from Feed the Bears, the food bank relied on donations and was able to offer non-perishable food items such as granola bars, peanut butter, oatmeal, soups and other canned goods. 
As word grew so did interest. In its first year of operation, Food Bank 4 U was accessed 1,100 times. 
Wanting to do more, Jane, who works as a staff associate in the Department of Chemical Sciences, and Julia reached out to the Greater Boston Food Bank and started the process of forming a partnership. 
After filling out the initial application, it took two years to complete subsequent paperwork and meet all of the requirements before a partnership was approved by the Greater Boston Food Bank. 
What this means is not only will non-perishables be offered through Food Bank 4 U, but BSU students will now also have access to fresh food items such as milk, cheese, yogurt and produce.
Aside from providing healthier, fresher options, Jane and Julia said the collaboration alleviates anxiety.
"We were often stressed out, always worried there would not be enough food. We've had some lean times," Jane said. "Now, we have the ability to be more reliable. This gives us a more diverse food selection and consistency."
J's Market officially opened in September and in its first two weeks saw 101 bags of food go out the door. In October, 304 bags of food were dispersed, feeding 246 students. 
Eggs, butternuts squash, potatoes, pineapple, salad and orange juice, every item finds a grateful recipient. 
"The response has been very good," Jane said. "We're also talking to students about meal planning and how to better prepare their food."
Food Bank 4 U and J's Market are both located in the Rondileau Campus Center. J's Market (RCC 016) is open Wednesday and Thursdays from 12:30-3p.m. 
As long as the RCC is open, Food Bank 4 U (RCC 012) is open.
The location is semi-private to encourage students to visit.  The service is completely anonymous.
"We are here to help with students' success," Jane said. "That really is the bigger picture and part of our university's mission."
Caption: Jane (left) and Julia Doherty. (Photo also by Heather Harris Michonski, University News & Video)