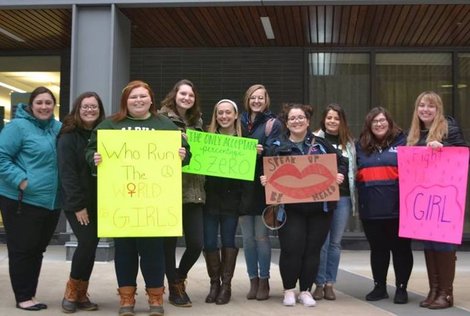 Story Series
News Feature
The BSU chapter of Alpha Sigma Tau is being recognized by the national sorority for its work in educating members about sexual violence.
Two leaders of Epsilon Sigma chapter will be speaking at the national convention in Pittsburgh in June about their group's successful implementation of Alpha Sigma Tau's online sexual assault and violence program, "Not Anymore."
Chapter President Stephanie Garcia and Raya Hankin, the group's vice president of organization development, both class of 2019, are among a small number of local Alpha Sigma Tau leaders from across the country invited by the national sorority to make "spotlight presentations" highlighting their chapters' accomplishments.
"We are very excited," Stephanie said. "We are a growing chapter and it's great that we can be part of this event and share our ideas and experiences."
Installed in 2014, the Alpha Sigma Tau chapter is BSU's newest sorority, with about 60 members, according to Stephanie. The Dartmouth resident is, like Raya, of Hopkinton, majoring in elementary education and English. Raya is also carrying a special education minor.
Alpha Sigma Tau's national leaders chose to honor the BSU chapter because of its active participation in "Not Anymore." About 90 percent of Epsilon Sigma members have taken the online program, which educates participants about consent, sexual assault, bystander intervention, and healthy relationships.
"A lot of students in our group are very passionate about this issue," Stephanie said. "Many of our members have had things like that happen to them so they feel even more connected to the program."
In their presentation, the students also plan to discuss how their chapter's efforts to inform members about other resources and activities at BSU aimed at keeping them safe and raising awareness about the issue, from the Sexual Violence Advocacy and Support Center to the annual Take Back the Night event.
The chapter's work to combat sexual violence reflects how BSU's sororities and fraternities are going beyond their traditional social function to help strengthen the sense of community on campus, Stephanie said.
"Instead of reinforcing stereotypes about Greek life by just focusing on social events, our programs foster a sense of empathy and sisterhood," she said. (Story by John Laidler for University News)