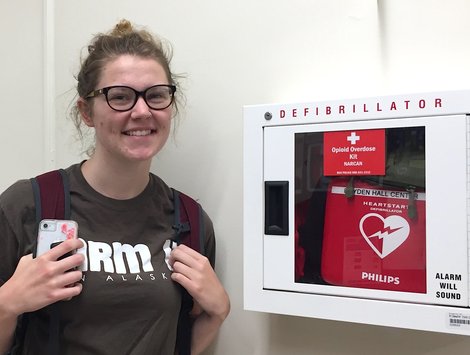 Story Series
News Feature
Ingrid Hasselquist, '19, was proud of Bridgewater State University when it became the first school in the nation to implement a public-access Narcan program.
The move, which involved placing the anti-overdose drug at 50 locations around campus, ensures BSU has resources available should they be needed and promotes education about the opioid crisis, said Ingrid, a psychology and social work double major from Worcester.
"Maybe we can be agents to stop it in its tracks," she said.
Ingrid recently worked with the Bridgewater State Police Department to organize Narcan trainings as part of a research project to see if the events change people's attitudes, and ease any concerns about having Narcan on campus. Detective Sgt. Robert McEvoy led the trainings and also discussed opioids and their prevalence in Massachusetts. Participants took pre- and post-training tests to help Ingrid understand their knowledge and views about Narcan and opioids.
Ingrid received a $4,000 stipend through the Adrian Tinsley Program for Undergraduate Research to work on her study, which will also serve as her honors thesis. She hopes to present her work on and off campus. 
And, if the results are positive, it could motivate other colleges and universities to follow BSU's lead in making Narcan available, she said.
"There's a lot of stigma around mental illness," Ingrid said. "Addiction has its own negative attitudes about it."
But, she thinks education is key to changing people's views.
Ingrid hopes to become a substance-abuse counselor and help people overcome opioid addiction, a disease that has affected people she knows, as well as the broader Worcester community. 
"I see it all the time when I'm in the community," she said. "I really see how much of a problem it is. I just really want to be someone who can help." (Photo by Brian Benson, University News)