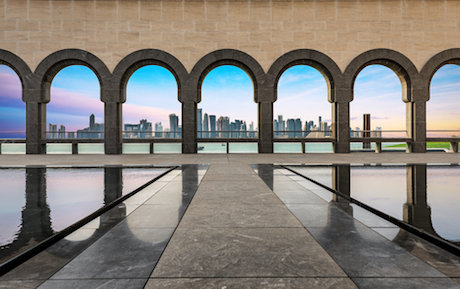 Story Series
News Feature
Dr. Jabbar Al-Obaidi and two students recently spent a week visiting Qatar, dispelling stereotypes about the Middle East country and immersing themselves in a different culture.
The travelers interacted with students at Community College of Qatar, gazed at towering skyscrapers and new construction, explored museums and visited The Peninsula and Al Sharq newspapers, among other activities, during the spring break travel course.
"I knew it was going to be eye-opening and amazing," said Sean Collette, '19, of Waltham, who is majoring in criminal justice and minoring in Middle East studies.  "You can't get that from reading a book or watching a documentary."
Rutheliz Vazquez, '19, had some fears before departing for Qatar. But, she said she felt safe in the country. Her friends were amazed at some of the pictures she sent them from her trip.
"A lot of students were skeptical and nervous to even take this trip because it was in the Middle East," said Rutheliz, who is from Boston and majoring in communication with a concentration in culture and minoring in public relations, U.S. ethnic and indigenous studies, and Middle East studies. "We were fine. We were with Dr. Al-Obaidi. He knew to keep us safe. I'm happy I went instead of going to somewhere else."
Rutheliz and Sean had trust and curiosity, two essential traits for a successful cultural experience, said Dr. Al-Obaidi, a media studies and communication technologies professor and the director of BSU's Center for Middle East Studies.
"They really enjoyed it," he said. "Through their enjoyment was my enjoyment. It was great."
The trip, which Dr. Al-Obaidi believes was BSU's first to Qatar, shattered several stereotypes, including that the entire Middle East is dangerous. While women in Qatar still face some barriers, the BSU visitors met women who were outspoken and friendly. In fact, the community college held its first celebration for International Women's Day while the BSU contingent was visiting.
Dr. Al-Obaidi and his students also forged new international relationships he hopes will lead to opportunities for Qatari and American students to visit each other's countries and BSU students to write for Qatari media.
The trio plans to present information on their trip at the Student Arts & Research Symposium, which will be held from 8:30 a.m. to 7:15 p.m. April 23 in Moakley, Hart and Burnell hall.
And Dr. Al-Obaidi hopes to lead another trip to Qatar in March 2019.
"We would like to expose more of our students to their global culture," he said. "That is really important." (Brian Benson, University News)