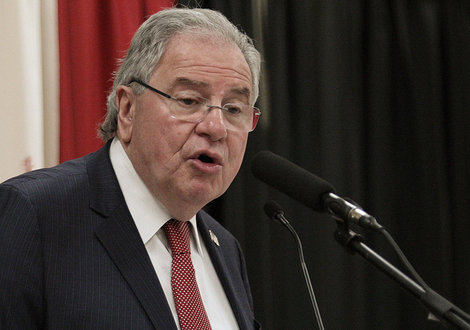 Story Series
News Feature
In a recent visit to BSU, Massachusetts House Speaker Robert DeLeo highlighted the importance of forging partnerships and preparing students for their careers.
"Employers are not only filling jobs from within the workforce, they are now hiring people who are unemployed, underemployed or just entering the workforce," Speaker DeLeo told a Metro South Chamber of Commerce legislative luncheon Tuesday.
Officials must continue to work to connect businesses and schools and teach students so they have a competitive edge, said Speaker DeLeo, D-Winthrop.
BSU and Massasoit Community College sponsored the luncheon, which was held in RCC ballroom. Attendees also heard from President Frederick W. Clark Jr., Massasoit Interim President William Mitchell and Brockton Mayor William Carpenter.
Presidents Clark and Mitchell, both BSU graduates, praised partnerships such as one that allows Massasoit students to move seamlessly to Bridgewater State. BSU, President Clark said, is almost halfway to its goal of having 1,000 paid internships. The presidents also praised state investment in programs at their institutions.
The internships and other programs come as baby boomers are retiring and fewer students are in the pipeline to take their places, President Clark said.
Mayor Carpenter outlined the need for more state education funding for Brockton and other gateway cities as well as his vision for allowing recreational marijuana businesses in his city in a way that brings in tax revenue and protects residents' quality of life.
Speaker DeLeo said state officials understand the concerns about funding K-12 education. He highlighted efforts to invest in education, reform health care and connect Bay State businesses with one another.
The state's talented workforce is a major draw for new businesses. And, thanks to the work of institutions like Bridgewater State and Massasoit, employers can find high-quality talent throughout the state, the speaker said.
"I look at ourselves as a commonwealth, a true commonwealth," he said. "It's not just about Boston and Cambridge or the Greater Boston area. It's about what we're trying to do throughout the commonwealth of Massachusetts." (Story by Brian Benson, University News)